Efficient Solution for Combining IP and Analog Cameras
PLANET HDVR-830 is a hybrid DVR recorder which is able to record video and data from traditional analog, AHD (Analog High Definition) and network IP security cameras. The advantage of a hybrid DVR recorder is that it lets you use currently installed analog security equipment along with newer network IP technology. This enables you to upgrade your surveillance system to IP equipment at your own pace, according to your budget. The HDVR-830 is the 8-channel, embedded system with HDMI local display and features recording, live view, playback and backup functions, etc. With easy-to-remember DDNS feature, the HDVR can be placed either in LAN or WAN for easy installation. Besides, designed for various surveillance applications via RS485 interface, the HDVR is capable of controlling most types of protocols. For the purpose of general monitoring, the HDVR-830 offers app viewer, Web browser and CMS (Central Management Software) for multi-platform remote access, thus making it an ideal solution for various applications, such as retail stores, communities, SMBs, supermarkets, restaurants and schools.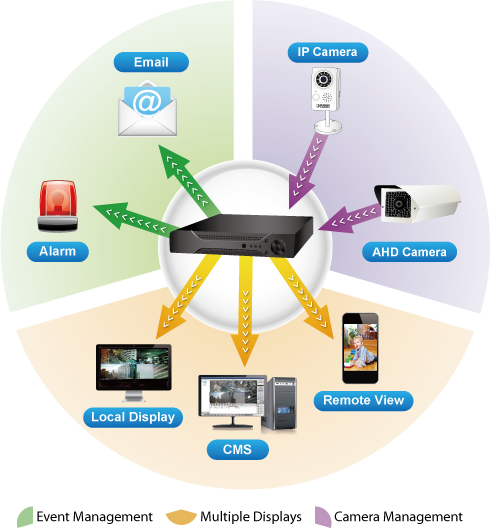 Hybrid Integration
The HDVR-830 allows each of its 8 channels to be connected to either an AHD analog camera or an IP camera. If you already have analog cameras and want to add on a few IP cameras, the HDVR-830 is definitely your ideal choice. In addition, as the HDVR-830 complies with ONVIF, it is interoperable with any third-party IP cameras, thus omitting compatibility issue and allowing you to add more cameras.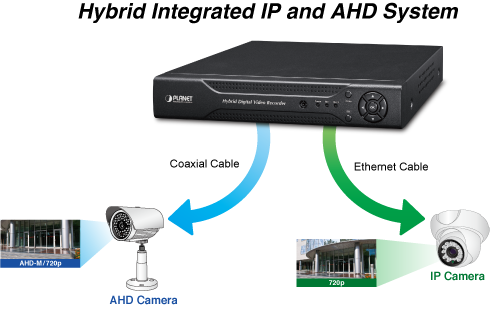 High Resolution Local Display
The HDVR-830 provides HDMI and VGA video output interfaces for dual local displays, which can be connected to HDMI monitor or VGA monitor for live view monitoring with video output of maximum 1280 x 720 resolutions. Due to local display, it can eliminate the need for a separate PC to view video from the unit. Besides, it also can be operated with the USB mouse to configure and monitor all the system easily.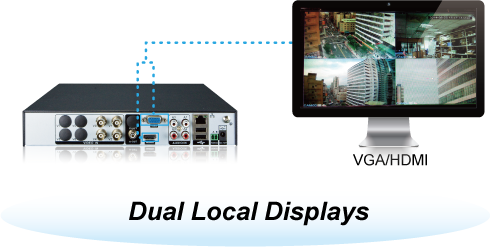 Real-time Remote Monitoring
Video from the HDVR system can be accessed with Web browsers and mobile devices. With remote monitoring, you can view live and recorded video, allowing for easier monitoring of your video deployments, and the ability to react quickly to alarms and events.

Central Management System (CMS)
Not just for small scale applications such as retail stores and SMBs, the HDVR system is expandable for multi-site management with the bundled CMS software. The CMS software is able to manage up to 256 channels of cameras simultaneously. With friendly graphic interface, users can control any cameras or HDVRs easily and make a quick response when event is triggered. With CMS support, users are able to make surveillance more efficient.