Monitor your home via Cloud IP Camera
PLANET ICA-W8100-CLD is different from other webcams in that our cloud camera can work without the need to be connected to PC. To view non-cloud camera video remotely, users need to perform many complicated and time consuming steps such as signing up for a third party dynamic IP service and reconfiguring their router. With the free App downloaded for your smart phone, you can quickly and easily view anywhere your camera feed via the ICA-W8100-CLD wirelessly.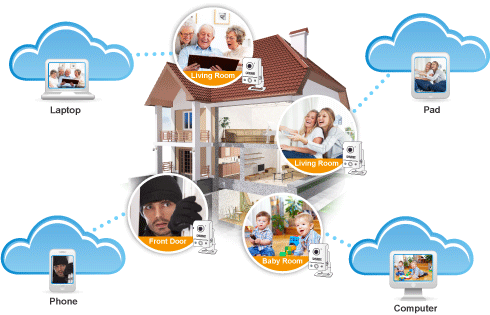 Compact Wireless Panoramic Camera for Wide View Surveillance
PLANET ICA-W8100-CLD is a compact cube camera providing 180 degree panoramic wide angle view, especially designed for indoor surveillance. Incorporating 1.3MP-resolution sensors, it supports H.264, MPEG-4, and JPEG compression formats and delivers excellent picture quality in up to 1280 x 720 pixels (720p) at 30 frames per second (fps). The unique design makes it the ideal solution to surveillance applications in homes, boutiques, stores or restaurants.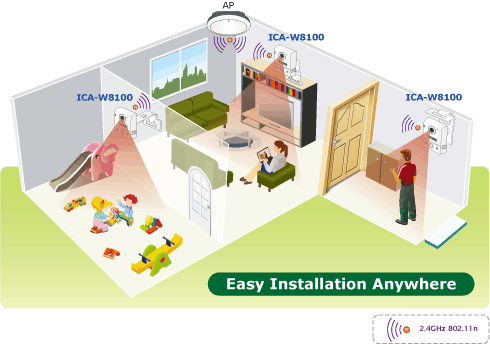 Wider Monitoring with 180º Panoramic View
The ICA-W8100-CLD wireless fisheye camera allows you to monitor all angles of a location using just one camera, thus saving lots of traditional mechanical Pan/Tilt maintenance effort. The distorted hemispherical image of the fisheye camera will be converted into the conventional rectilinear projection. Without the need of installing any other software and with the ICA-W8100-CLD, you can watch live view and utilize functions such as motion detection through the Web interface via an internet browser.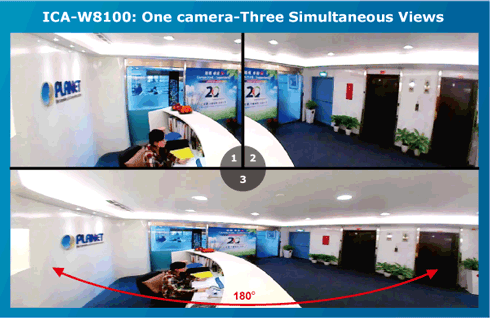 Efficient Event Management
The ICA-W8100-CLD is designed with a built-in Passive InfraRed (PIR) motion detection sensor able to detect movement as far as 5 meters away. When people pass by or an emergency happens in the specified areas, the ICA-W8100-CLD will "detect" and start recording automatically. It provides an additional function of alarm notification that can send the captured images via the micro SD/SDHC card slot for local storage.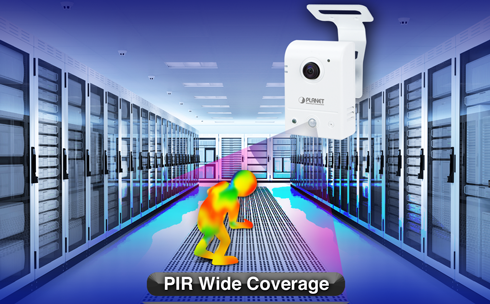 Enhanced Video Quality & 2-way Audio Support
The ICA-W8100-CLD provides the industry a more comprehensive set of performance enhancing features including Auto Electronic Shutter (AES) and Auto White Balance (AWB). Besides, the ICA-W8100-CLD supports 2-way audio to strengthen the event management capabilities.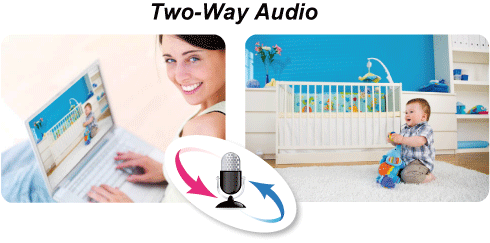 High Quality Streaming via 11n Wireless Connectivity
The ICA-W8100-CLD adopts IEEE 802.11n wireless technology to communicate at maximum wireless signal rate and ensures secure transmission with WEP and WPA encryptions. It allows you to stream high quality video to remote sites and mobile devices. A Site Survey feature also allows you to view and connect to nearby wireless networks with ease. Complying with ONVIF, the ICA-W8100-CLD is therefore interoperable with the third brand NVR in the market, which greatly supports users to integrate with their existing surveillance network. It also includes 64-CH central management software for ease of maintenance and remote monitoring. The ICA-W8100-CLD is indisputably the top choice for reliable and high performance surveillance.