Quick and Easy Gigabit High Power PoE Network Deployment
PLANET POE-171S Gigabit ultra Power over Ethernet splitter delivers the Ethernet digital data with DC 56V power over the twisted pair cables as an IEEE 802.3at/af Gigabit high Power over Ethernet splitter, and it separates the digital data and the power into three optional outputs (12V / 19V /24V DC) and distance up to 100 meters. If the POE-171S co-works with PLANET POE-171 (60-watt IEEE 802.3at PoE injector), it can offer more PoE applications, such as:■ PoE PTZ Speed Dome
■ Other Network devices that need higher PoE power to work normally
■ Thin-client
■ AIO(All-in-One) touch PC
■ Remote digital signage display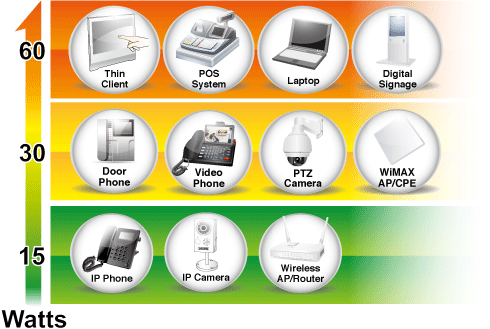 The POE-171S frees the device deployment from restrictions due to power outlet locations, which eliminates the costs for additional AC wiring and reduces the installation time.

50 watts of Power over 4-Pair UTP
The POE-171S and POE-171 ultra PoE solution use cabling standard as IEEE 802.3at/af PoE. Instead of delivering power over 2-pair twisted UTP – be it End-span (Pin 1,2,3 and 6) or Mid-span (Pin 4,5,7 and 8), it provides the capability to source up to 50 watts of power by using all the four pairs of standard Cat5e/6 Ethernet cabling. In the new 4-pair system, two PSE controllers will be used to power both the data pairs and the spare pairs.
Cost-effective and Easy Cabling Installation
In the IEEE 802.3at Gigabit high Power over Ethernet devices installed, the system administrator only has to connect one single RJ-45 Ethernet cable to carry both power and data from an IEEE 802.3at/af PoE injector to POE-171S, and then the POE-171S splits data and DC power to any of IP networking devices. Besides, to connect through IEEE 802.3at Power over Ethernet injector and POE-171S, you can also have the benefits of cost saving, easy networking planning and higher reliability. Upon the completion of the installation of IEEE 802.3at compliant devices, the POE-171S, when functioning with the POE-171, can make the connection while migrating or splitting the power and the Ethernet digital packets, such as PTZ (Pan, Tilt & Zoom) network cameras, PTZ Speed Dome, color touch-screen Voice over IP (VoIP) telephones, multi-channel wireless LAN access points and other Network devices that need 50-watt high power to work normally.