Cost-effective and Flexible Wireless Solution
PLANET WNAP-6315 is compatible with IEEE 802.11b/g/n standard and supports a data rate of up to 150Mbps in 802.11n mode. The WNAP-6315 not only has a built-in 12dBi panel antenna but also reserves one RP-SMA type antenna connector to allow versatile antenna installations including omnidirectional, yagi, sector, flat-panel and grid antennas. Furthermore, the WNAP-6315 can directly communicate with the wireless IP cameras by using the popular 2.4GHz frequency band, thus turning the surveillance services into a wireless environment.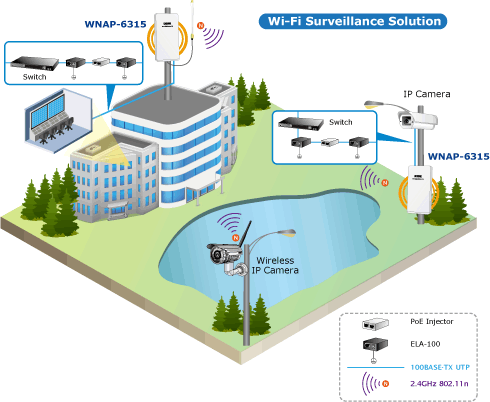 Multiple Operation Modes Designed for Various Applications
The WNAP-6315 supports as many as 8 wireless operation modes including AP Bridge, AP Router, Client Bridge, Client Router (WISP), WDS PtP, WDS PtMP, Repeater and Universal Repeater, thus meeting users' various application requirements.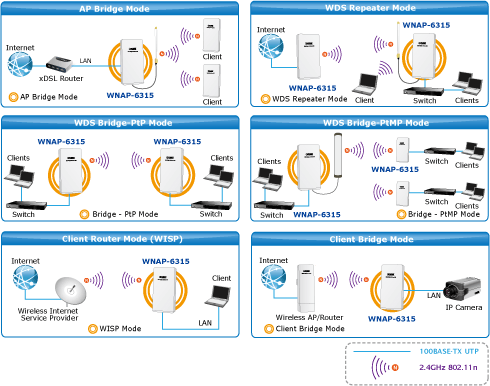 Advanced Security and Rigorous Authentication
The WNAP-6315 supports WEP, WPA / WPA2, WPA-PSK and WPA2-PSK wireless encryptions, the advanced WPA2-AES mechanism, and 802.1X RADIUS authentication, which can effectively prevent eavesdropping from unauthorized users or stop an unauthenticated wireless access to bandwidth. Users are granted or denied access to the wireless LAN network based on the ACL (Access Control List) that the administrator pre-established. In addition, with the multiple-SSID feature, you can set up different wireless networks. The WNAP-6315 can therefore serve as a virtual access point for segmented networks tailored to any industrial need.
Rugged Architecture Provides Reliable Outdoor Connection
The WNAP-6315 is equipped with a sturdy and durable housing, meeting the IP55 rating for outdoor usage, which is definitely suitable for harsh environments. Besides, with its UV-resistant feature, the surface of the WNAP-6315's lightweight plastic housing does not yield to brittle fracture easily. Thus, it is as reliable as the metal case but more economical. With the proprietary Power over Ethernet (PoE) design, the WNAP-6315 can be easily installed in the areas where power outlets are not available. Additionally, the reset button on the PoE injector brings convenience to the administrator who can remotely recover the system's original setting and the self-healing (schedule reboot) capability to keep connection alive all the time.
Easy Deployment and Management
With user-friendly Web UI and step-by-step setup wizard, the WNAP-6315 is easy to install, even for users who never experience in setting up a wireless network. Moreover, with the Planet Smart Discovery Utility and Planet Dynamic DNS service, the WNAP-6315 is convenient to be managed and configured remotely.