PLANET WNAP-C3220A, a 300Mbps 802.11n Wireless Range Extender, offers multiple operation modes and complies with 802.3af Power over Ethernet standard. Particularly, it supports AP Controller features that can increase wireless coverage and can easily be centrally managed within a network. Sleek styling housing and ceiling-mountable design makes the WNAP-C3220A blend unobtrusively into any ceiling or wall for various environments. This unique product also creates a secure, cost-effective and highly scalable wireless LAN infrastructure. It is ideal for enterprises, hotels, hospitals and home users to extend wireless network coverage.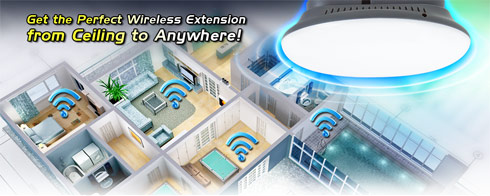 Ease of Deployment with PLANET AP Controller
To simplify the wireless deployment, the WNAP-C3220A supports AP controller, which can be switched to the "managed AP" mode and thus can be centrally managed by PLANET Wireless AP Controller. It will certainly benefit the system integrators when the scale of the wireless network gets bigger. With visible LED lighting, the administrator can quickly pinpoint the localization of each ceiling-mount AP. Furthermore, the user-friendly, graphical configuration setup wizard and PLANET Smart Discovery tool can make the WNAP-C3220A convenient to be managed and configured remotely in a small business wireless network.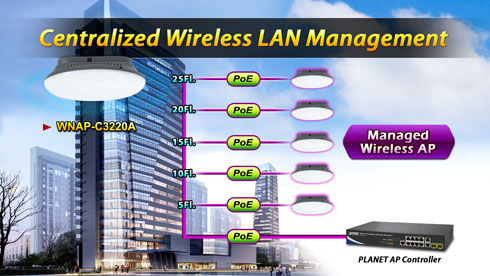 Comprehensive Wireless Operation Mode
The WNAP-C3220A supports multiple types of wireless connectivity such as AP (Multi-SSIDs), Client, Repeater/Universal Repeater, WDS Point-to-Point (PtP) and WDS Point-to-Multipoint (PtMP), allowing users to comprehensively experience various applications. It also helps users to easily build wireless network and extend the wireless range of the existing wireless network.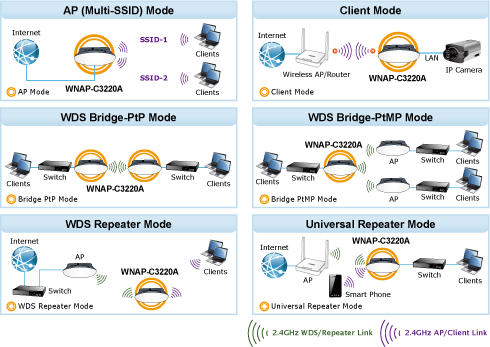 Universal Wireless Range Extender
To extend the coverage and eliminate the dead spot of wireless network in every place, the WNAP-C3220A supports not only WDS bridging, but also Universal Repeater mode which can solve the incompatibility between brands and provides a high-speed, wide coverage. The built-in intelligent antennas offer 360 degrees of coverage with excellent performance.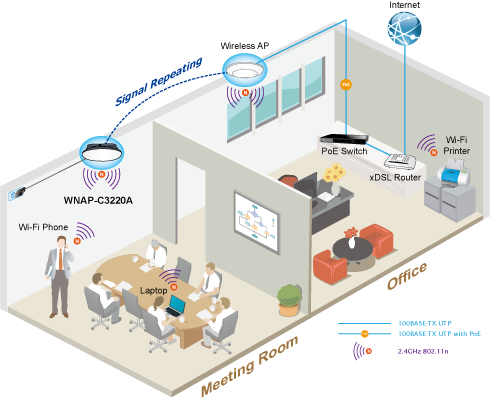 Advanced, Secure Wireless Connection
In aspect of security, besides 64-/128-bit WEP encryption, the WNAP-C3220A integrates WPA/WPA2, WPA-PSK/WPA2-PSK and 802.1x authority to secure and protect your wireless LAN. To simplify security settings for home and SOHO network, the WNAP-C3220A supports Wi-Fi Protected Setup (WPS). By just pressing the WPS button or keying in the PIN code, the secure connection between the WNAP-C3220A and wireless clients will be built immediately even the user has never experienced to create a secure wireless network. In addition, the WNAP-C3220A provides the wireless MAC filtering and SSID broadcast control to consolidate the wireless network security and prevent unauthorized wireless connection.Elegant, Unique & Ceiling-mountable Design
Featuring an attractive flying saucer appearance and ceiling-mountable design, the WNAP-C3220A can be firmly absorbed on the ceiling or the wall, which makes the client-side installation easy and convenient. Its streamlined body without protruding antennas gives effects of embellishment on the surroundings and also provides greater wireless coverage.

Flexible Deployment with PoE Feature
Compliant with IEEE 802.3af Power over Ethernet standard, the WNAP-C3220A can be powered and networked by a single UTP cable. It thus reduces the needs of extra cables and dedicated electrical outlets on the wall, ceiling or any other place which is difficult to reach. The wireless AP deployment becomes more flexible and worry-free from the power outlet locations.