Powerful Dual-Band Outdoor WLAN Solution
PLANET WDAP-8350 comes with a high transmission power of 500mW which can bridge two remote nodes in the 5GHz frequency band and provides clients with 2.4GHz wireless access over longer distance range. Its fully-protected hardware design makes it capable to ward off direct lightning strikes and unpredictable harsh weathers. Furthermore, the WDAP-8350 adopts the high-class Qualcomm Atheros SoC (System-on-a-Chip) and Dual-OS Backup mechanism that provide higher stability to meet the stringent requirements of outdoor solution.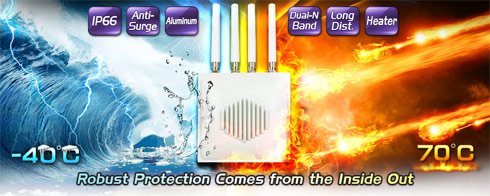 All-Weather Rugged Protection
With the IP66-rated aluminum housing, Surge Arrester, Heater design and wide-ranging operating temperature from -40 to 70 degrees C, PLANET WDAP-8350 can perform normally under rigorous weather conditions, including thunderstorms, and hot and cold climates, thus maintaining the connection as stable as that in the general environments.
More Flexible for Outdoor Environments
With its dual-RF design and by connecting optional specific types and higher gain antennas to its N-Type antenna connectors, the WDAP-8350 can adapt to various applications including connecting IP cameras at multiple locations to the security control center to deploy a surveillance system, or relaying the wireless signal from the urban to the suburban to provide wireless internet service to rural residents simultaneously. With the WDAP-8350, an outdoor wireless infrastructure can be speedily deployed, thus realizing the setting up of an outdoor, long-distance, dual-purpose unit.
Seamless Failover and Roaming
In the actual user experience, a redundant setup is important in that,the WDAP-8350 enables the auto failover mechanism to activate by using dual images (Dual-OS) while if the active OS fails, it can immediately switch to the standby OS. That can eliminate the difficulty of real-time support in long distance and make failover as simple as possible. Furthermore, it enhances handover of clients between APs by improving the handshaking process to promote better performance, thus reducing the handoff times between APs and associated clients, which means it can quickly handover to the nearby AP without any disconnection. Benefiting from the auto-backup and fast roaming, the WDAP-8350 is able to achieve a non-disruptive path failover and seamless roaming.
High-efficiency and Practical Solution to Separate Various Applications
PLANET WDAP-8350 supports multiple SSIDs (16 sets of SSIDs for each band) to allow each virtual wireless network to have a different set of security and also is capable to map each VAP to a specific virtual network through the use of VLAN tagging which enables isolation of guest and corporate networks. In addition, its dynamic rate adaptation mechanism for multicast guarantees the wireless bandwidth and service quality or the fixed rate of video streaming, which prevents from capacity wasting of multicast packets, thus utilizing the available bandwidth with more efficiency.

Advanced Value-added Characteristics
Featuring an IPv4/IPv6 dual-stack network, the WDAP-8350 can work with the original IPv4 network structure and also support the cutting-edge IPv6 network, which provides migration from the IPv4 to IPv6 network with ease. With the dynamic power saving mode implementation, it is capable to detect the traffic loading, which consumes low standby power automatically, thus reducing power consumption by less than 30%.
Easy Deployment and Management
Compliant with IEEE 802.3at PoE+ (Power over Ethernet) standard, the WDAP-8350 can be powered by a single UTP cable besides providing data transmission. It thus reduces the needs of extra cables and dedicated electrical outlets which are difficult to reach in outdoor environment. It enables the wireless LAN deployment to become more flexible and worry-free from the power outlet locations. Moreover, with the Planet Smart Discovery Utility, the WDAP-8350 is convenient to be configured remotely and with the Wireless Location Management, it is easy to locate online clients' information.