Wireless Management Solution in All Aspects
PLANET WAPC-1232HP, a brand-new Wireless Access Point Controller, features smart AP control, L2+/L4 IP management and intelligent PoE capability to enable service providers and IT managers to control all wireless APs at the same time in small and medium wireless network environments, such as hotels, villas, resorts and any public area deployment. The WAPC-1232HP provides IPv6/IPv4 dual stack management and built-in L2/L4 Gigabit Switching engine along with 8 10/100/1000BASE-T ports featuring 30-watt 802.3at PoE+, 2 additional Gigabit copper ports and another 2 extra 100/1000BASE-X SFP fiber slots. Its simplified deployment and management ease the integration of devices into the existing wired and wireless networks.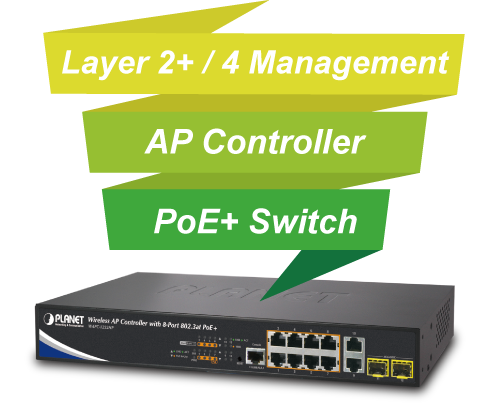 Centralized Remote Control of Managed APs
PLANET Wireless AP Controller features centralized remote control of managed APs without needing to manually configure each AP for the wireless SSID, radio band and security settings. With one click of the mouse for the one-time configuration of the WAPC-1232HP's wireless parameters, wireless settings of multiple APs can be simultaneously established to minimize deploying time, effort and cost.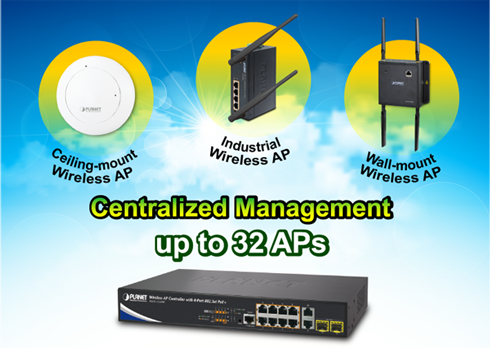 Optimizing Wireless Network within Minutes
The WAPC-1232HP offers a user-friendly Web GUI for easy configuration. It enables wireless IT managers to complete a four-step configuration process of multiple APs. Through this Web interface, the wireless IT managers can discover manageable APs on the networks first, edit AP profiles and then apply the profiles to selected AP or AP group. Following these steps, configurations for multiple APs can be done in just a few minutes.

Wireless AP Cluster Management
The WAPC-1232HP supports wireless AP cluster management, which enables the central management of a group of wireless APs at one time. According to requirements, wireless APs can be flexibly expanded or removed from a wireless AP group in the future.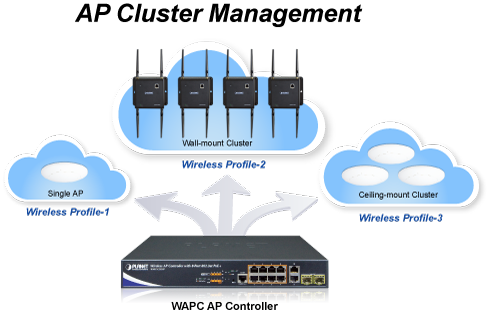 Centralized Power Management for Wireless AP Networking
The eight Gigabit PoE ports of the WAPC-1232HP can be used to provide power directly to APs that connect to the AP controller. Each of the eight Gigabit ports provides 30 watts of power, which means a total power budget of up to 240 watts can be utilized simultaneously without considering the different types of PoE applications being employed. It provides a quick, safe and cost-effective Power over Ethernet network solution to Access Points for small businesses and enterprises.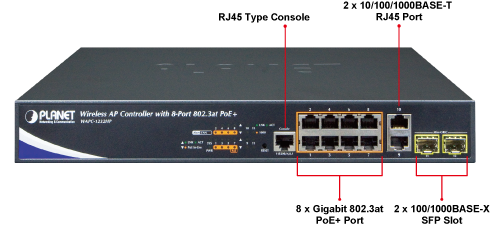 Built-in Unique PoE Functions for AP Power Control
As a managed PoE Switch for stable and reliable wireless AP operation, the WAPC-1232HP features special PoE Management functions:
■ AP Alive Check
■ Scheduled AP Power Recycling
■ PoE Schedule
■ SMTP/SNMP Trap Event AlertIntelligent PoE AP Alive Check
The WAPC-1232HP can be configured to monitor connected AP status in real time via ping action. Once the AP stops working and responding, the WAPC-1232HP will recycle the PoE port power and bring the AP back to work. It will greatly enhance the network reliability through the PoE port resetting the AP's power source and reduce administrator management burden.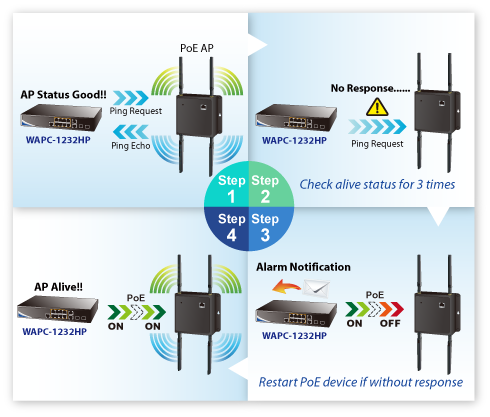 PoE Schedule for Energy Saving
The "PoE schedule" function enables wireless IT managers to activate or inactivate PoE power feeding for each PoE port during specified time intervals, which is a powerful function to help SMBs or enterprises save power and money.Robust Layer2 Features
The WAPC-1232HP can be programmed for advanced switch management function, such as dynamic port link aggregation, Q-in-Q VLAN, Multiple Spanning Tree Protocol (MSTP), Loop protection, IGMP/MLD snooping, Layer 2/4 QoS, and bandwidth control. The WAPC-1232HP allows the operation of a high-speed trunk with multiple ports and supports connection fail-over as well.
Powerful Security
The WAPC-1232HP offers comprehensive layer2 to layer4 access control list (ACL) for enforcing security to the edge. It can be used to restrict to network access by denying packets based on source and destination IP address, TCP/UDP port number or defined typical network applications. Its protection mechanism also comprises 802.1x port-based and MAC-based users and device authentication.Enhanced Security and Traffic Control
The WAPC-1232HP also provides DHCP Snooping, IP Source Guard and Dynamic ARP Inspection functions to prevent IP snooping from attack and discard ARP packets with invalid MAC address. The network administrator can now build highly-secure corporate networks with considerably less time and effort than before.
User-friendly Secure Management
For efficient management, the WAPC-1232HP is equipped with console, Web and SNMP management interfaces. With the built-in web-based management interface, the WAPC-1232HP offers an easy-to-use, platform independent management and configuration facility. Moreover, the WAPC-1232HP offers remote secure management by supporting SSH, SSL and SNMPv3 connection which can have the packet content encrypted at each session.