10Gbps Ultra High Speed Switch with Multiple SFP Fiber Ports is Great for All Long-Reach Applications
The MGSW-28240F is specially designed for service providers to deliver profitable Ethernet network. It is equipped with advanced management functions and provides 24 100/1000Mbps dual speed SFP Fiber ports, 4 10Gbps SFP Fiber ports, and 4 10/100/1000Mbps TP/SFP combo ports delivered in a rugged strong case. The MGSW-28240F is capable of providing non-blocking switch fabric and wire-speed throughput as high as 128Gbps in the temperature range from -10 to 60 degrees C without any packet loss and CRC error. It greatly simplifies the tasks of upgrading the enterprise LAN for catering to increasing bandwidth demands.

Flexible and Extendable 10Gb Ethernet Solution
10G Ethernet is a big leap in the evolution of Ethernet. Each of the 10G SFP+ slots in the MGSW-28240F supports dual speed and 10GBASE-SR/LR or 1000BASE-SX/LX. With its 4-port, 10G Ethernet link capability, the MGSW-28240F provides broad bandwidth and powerful processing capacity. In addition, the MGSW-28240F provides 24 mini-GBIC slots, which supports Dual-speed, 100BASE-FX and 1000BASE-SX/LX SFP (Small Form-factor Pluggable) fiber-optic modules. With the 4 10Gbps SFP Fiber ports and 24 Gigabit dual speed SFP Fiber ports support, the MGSW-28240F enables the administrator to flexibly choose the suitable SFP transceiver in the light of the transmission distance or the transmission speed required to extend the network efficiently. It is suitable for metropolitan networks and wide area networks.Intelligent SFP Diagnosis Mechanism
The MGSW-28240F supports SFP-DDM (Digital Diagnostic Monitor) function that greatly helps network administrator to easily monitor real-time parameters of the SFP, such as optical output power, optical input power, temperature, laser bias current, and transceiver supply voltage.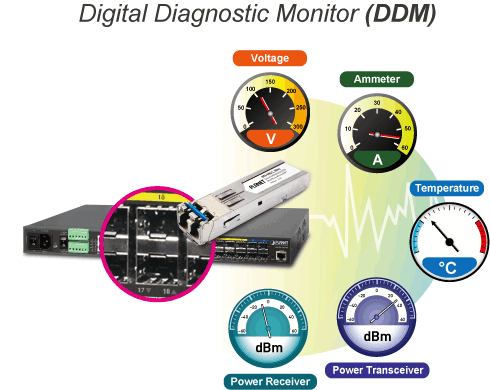 Optimized Design for MAN Redundant Ring, Fast Recovery for Surveillance or Industrial System
The MGSW-28240F supports redundant ring technology and features strong rapid self-recovery capability to prevent interruptions and external intrusions. It incorporates ITU-G.8032 Ethernet Ring Protection Switching technology, Multiple Spanning Tree Protocol (802.1s MSTP), and redundant power supply system into customer's industrial automation or surveillance network to enhance system reliability and uptime in harsh factory environments. The MGSW-28240F also protects customer's industrial network connectivity with switching recovery capability that is used for implementing fault tolerant ring and mesh network architectures. If the Industrial network is interrupted accidentally, the fault recovery times can be less than 50ms to quickly bring the network back to normal operation.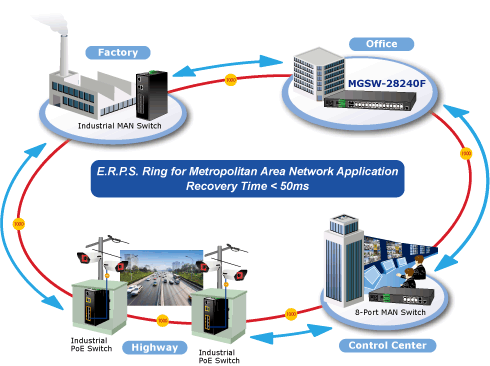 Front-access Interface Design Improves Efficiency of Installation and Maintenance
The MGSW-28240F is with user-friendly front-access design to help improve technician wiring and installation efficiency, whereas, in the traditional design, the power socket, console port and even some extension module were always placed on the rear of the product. When technician is installing or maintaining the product on the rack, they have to be careful because they may not see the rear-end of the product. It is very dangerous to the other on-line devices. Now, the front-access design helps technician avoid this situation, and install or operate the MGSW-28240F very easily.Digital Input/Output Design Helps to Efficiently React to the Emergency Events
The MGSW-28240F helps the administrator to efficiently react to the emergency events by offering digital input and digital output interface. The digital input can be set up to indicate urgent events, and send the messages or alarm to the network system, such as door open detector or windows open detector. The digital output function can define the immediate response such as port failure or power failure to the related urgent event.AC and DC Redundant Power to Ensure Continuous Operation
To enhance the operation reliability and flexibility, the MGSW-28240F is equipped with one 100~240V AC power supply unit and two additional 36~60V DC power input connectors for redundant power supply installation. The Redundant Power Systems are specifically designed to handle the demands of high tech facilities requiring the highest power integrity. Furthermore, with the 36~60V DC power supply implemented, the MGSW-28240F can be applied as the telecom level device that could be located in the electronic room.Cost-effective IPv6 Managed Gigabit Switch Solution
Faced with the increasingly large number of IP cameras and wireless APs getting deployed in all kinds of applications, more and more network equipment comes with IPv6 protocol for next generation networking. The MGSW-28240F supports both the original IPv4 network structure as well as the new IPv6 protocol. With easy and friendly management interfaces and plenty of management functions included, the MGSW-28240F is the best choice for enterprises, and IP Surveillance and Wireless service providers to connect with IPv6 network.Layer2/Layer4 Full-functioned Managed Switch for Building Automation Networking
The MGSW-28240F Managed Metro Ethernet Switch is ideal for applications in the factory data centers and distributions. It provides advanced Layer 2 to Layer 4 data switching and redundancy, Quality of Service traffic control, network access control and authentication, and Secure Management features to protect customer's industrial network connectivity with reliable switching recovery capability that is suitable for implementing fault tolerant and mesh network architectures.

Powerful Security
The MGSW-28240F offers comprehensive Access Control List (ACL) for enforcing security to the edge. Its protection mechanisms also comprise Port-based 802.1x and MAC-based user and device authentication. The port-security function effectively limits the number of client passes through, so that network administrators can now construct highly secured corporate networks with time and effort considerably less than before.