All-in-One Manageable Wi-Fi Solution for Hospitality Industry
PLANET WNAP-W2201A enables hospitality industry to build a high-speed wireless network with a maximum data rate of 11n 300Mbps via PLANET AP controller. Furthermore, it conforms to standard 86-type electrical junction box and IEEE 802.3af/at PoE, suitable for in-wall installation. The WNAP-W2201A has also a built-in RJ11 port for phone pass-through and 100BASE-TX RJ45 port for Ethernet connection to such device as IPTV or laptop, enabling to integrate a hotel network with its all-in-one interface. This definitely helps guests gain good user experience.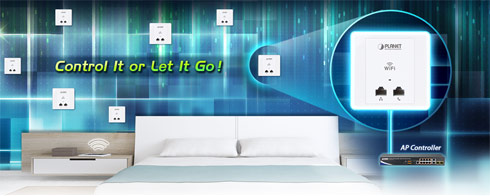 Ease of Deployment with PLANET AP Controller
To expand the capability of in-wall AP, PLANET WNAP-W2201A comes with centralized management, enabling the hospitality industry to deploy multiple APs with a single interface of AP controller and reducing repetitive tasks including AP provisioning, AP status monitoring and AP maintenance. In addition, by connecting with PLANET WAPC AP controller series, the WNAP-W2201A comes with PoE alive check and PoE schedule features, which help hoteliers optimize their wireless network within minutes.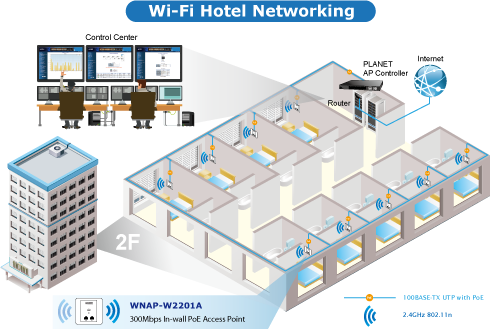 Suitable for Any Room Installation without Breaking Interior Design
Featuring attractive in-wall design, the WNAP-W2201A can be firmly installed into the wall via the standard 86 x 86 mm or 75 x 75 mm European outlet box, which makes electrical wiring invisible and convenient for room installation without affecting the original interior design. It is ideal for hotels, residences, hospitals and more to establish wireless network.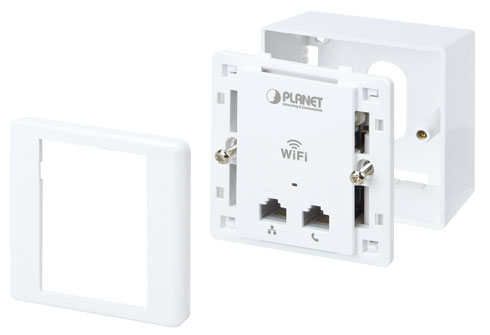 Comprehensive Wireless Operation Mode
The WNAP-W2201A supports multiple wireless communication connectivities such as AP (Multi-SSIDs), Client, Repeater/Universal Repeater, WDS Point-to-Point (PtP) and WDS Point-to-Multipoint (PtMP), allowing users to comprehensively experience various applications.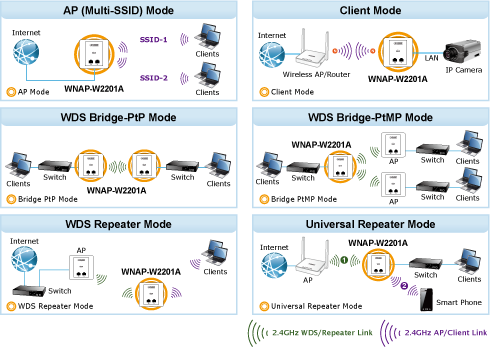 Easy to Install and Manage
Integrated with RJ11 phone pass-through, RJ45 Ethernet connection and IEEE 802.3af/at PoE PD scheme, the WNAP-W2201A is easy to be installed to any room's existing 86-type or 75-type junction box with only 6 steps. The setup wizard and on-line help can simplify the configuration even for a user who has never experienced in setting up a wireless network. In aspect of centralized management, besides the SNMP, multiple devices can be configured and monitored by PLANET AP controller. The WNAP-W2201A helps the system administrator overcome the difficulties of wireless deployment.