Low Cost, Low Power, 10 Gigabit Performance
To welcome the dawning of the new 10G-network generation, PLANET has released a brand-new 10Gbps PCI Express Server Adapter – the ENW-9803. It comes with one 10GBase-T RJ-45 interface and low-profile PCI Express form factor, and is designed to address system application requirements by offering the best cost, 10Gbps high-performance, low-power consumption and better-quality solution in the 10Gbps network market today. With throughput up to 10 times that of the existing 1000Mbps solutions, PLANET ENW-9803,used for Application Servers and Network Attached Storages (NAS), guarantees extremely high throughput and excellent signal quality for the existing Ethernet infrastructure.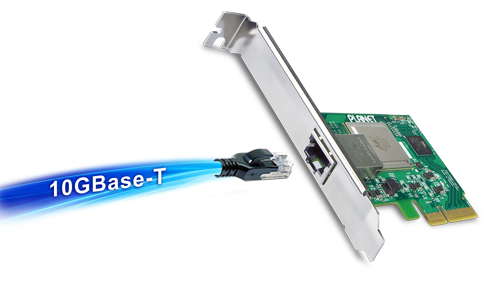 Cost-effective and Ideal 10G Adapter
Compared with 10G adapter with CX4 and SFP+ interface, PLANET 10GBase-T PCI-E adapter is the best choice in that the ENW-9803 10GBase-T can reach up to 100 meters over Cat.6a or Cat.7 RJ-45 cable, whereas the CX4 interface only can extend up to 15 meters in distance. The cost is too high for having an extra SFP+ interface for the SFP+ transceiver. However, with the ENW-9803, customers only spend on Cat.6a or Cat.7 cable as the ENW-9803 is bundled with RJ-45 connector, thus costing less than the SFP+ transceiver.
| | | | | |
| --- | --- | --- | --- | --- |
| 10G Spec | Interface | Media | Maximum Distance | Total Ownership Cost |
| 10GBase-T | RJ-45 | Cat.6a/Cat.7 UTP cable | 100 meters / 328 ft | Low |
| 10GBase-CX4 | CX4 | Copper | 15 meters / 49 ft | Medium |
| 10GBase-SR | SFP+ | Multi-mode fiber cord | 300 meters / 984 ft | High |
| 10GBase-LR | SFP+ | Single mode fiber cord | 10 km / 32808 ft | High |
Server Level Adapter to Expand Networking Environments
The ENW-9803 is an optimized 10GbE device designed for low-power, low-cost and single-port applications required in application servers, high-end workstations and personal computers. This makes it ideal for enabling 1GbE to 10GbE migration in bandwidth-intensive workstation applications and for low-end to mid-range network appliances. With the innovative PCI Express Bus Architecture, it offers increased bandwidth, reliability and additional functionality compared with standard GbE network cards. The performance of throughput at rates up to 20Gbps is unbelievable, thus eliminating the bottleneck that exists with the current Gigabit network. PLANET ENW-9803 is designed to connect your servers and workstations, guaranteeing extremely high throughput and excellent signal quality.Standard 802.1Q VLAN Support
Moreover, the ENW-9803 supports IEEE 802.1Q VLAN which allows it to operate in a flexible and secure network environment. With 16K jumbo frame ability and IEEE 802.3 flow control support, it further optimizes throughput and wire-speed packet transfer performance without risk of packet loss. The high data throughput of the device makes it ideal for most 10 Gigabit Ethernet environments.Multiple OS Support
The ENW-9803 operates completely well with most of the popular and latest operating systems including Microsoft Windows Server, Linux and VMware, enabling simple integration into network designs. There is no need of any modification to the server's operating system or any special software required for the ENW-9803 to be integrated into the system.