Delivering High-Demand Service Connectivity for ISP / Triple Play Devices
PLANET EPN-402NV is a GEPON Wi-Fi ONU (Optical Network Unit) equipped with one GEPON port, four 10/100Mbps RJ-45 LAN ports and two FXS RJ-11 interfaces. It is also a high-end line with IEEE 802.11b/g/n standard multi-terminal product. It provides residential and office users with the ideal solution for sharing an ultra high-speed fiber optical broadband connection. When functioning with PLANET GEPON Optical Network Terminal (OLT) EPL-2000, the EPN-402NV provides highly-effective GEPON solutions for FTTH network. With friendly-centralized GUI management, it is easy for installation and maintenance of GEPON deployment.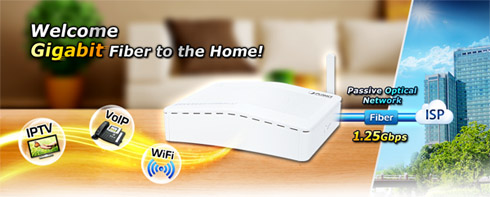 Perfectly Designed for Fiber to the Home Applications
PLANET EPN-402NV is a fiber to the home (FTTH) broadband access equipment type. With built-in 1.25Gbps GEPON fiber interface, the EPN-402NV supports different optic types for WAN and the distance can be up to 20km through the fiber connection. It can handle multiple high-throughput services such as IPTV, on-line gaming, VoIP and Internet access, and keep the bandwidth usage smoothly via its QoS features. Thus, with the advantages of high reliability and scalability, the EPN-402NV can further be applied in the network of SOHO (small office or home office) or small businesses that provide high-performance access services.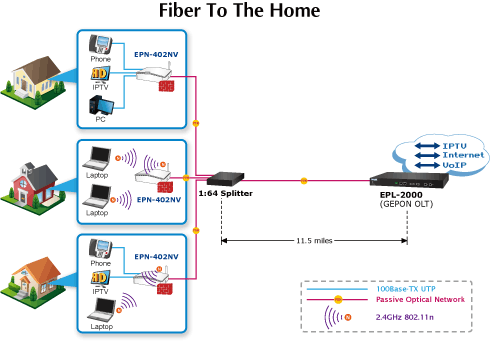 High-Speed 802.11n Wireless
With built-in IEEE 802.11b/g and 802.11n wireless network capabilities, the EPN-402NV allows any computer and wireless-enabled network device to connect to it without additional cabling. 802.11n wireless capability brings users the speed of wireless data transmission rate to as high as 300Mbps. The radio coverage is also doubled to offer strong wireless connection even in widely spacious offices or houses.

Standard Compliance with FXS Port
The EPN-402NV provides two FXS ports that can easily integrate with general voice over IP system. The EPN-402NV makes it simple for the enterprise featuring voice and data system or expanding voice system to new locations. It helps you to save money on long-distance calls; for example, the remote users can dial in through a Unified VoIP Communication System just like an extension call but no long-distance call charge would occur.IPv6/IPv4 Dual Stack Capability
With fully supporting both IPv4 and IPv6 protocols, the EPN-402NV can work with the original IPv4 network structure and also support the new IPv6 network structure now and in the future. As more network devices are growing and the need for larger addressing and higher security becomes critical, the EPN-402NV is the best choice for ISPs to build the IPv6 FTTx edge service to connect with the IPv6 network.Superior Management Functions
The EPN-402NV provides user-friendly management interface to be managed easily through standard web browsers. For networking management features, the EPN-402NV not only provides basic router functions such as DHCP server, virtual server, DMZ, QoS, and UPnP, but also firewall functions including Network Address Translation (NAT), URL/Port/MAC filtering and DoS protection. Furthermore, the EPN-402NV serves as an Internet firewall to protect your network from being accessed by unauthorized users.Robust ONU Management
The EPN-402NV is designed to work with PLANET OLT EPL-2000 to provide robust FTTx applications. With the Element Management System (EMS) built in the EPL-2000, the administrators can manage and configure the facilities such as adding or removing PLANET OLTs and ONUs to or from the network architecture easily and economically. The EMS also supports many operating and monitoring functions for efficient ONU management including ONU auto-detection, auto-registration, testing link connection, binding MAC address, loopback test and filtration, bandwidth control, flow control, and multicast stream control.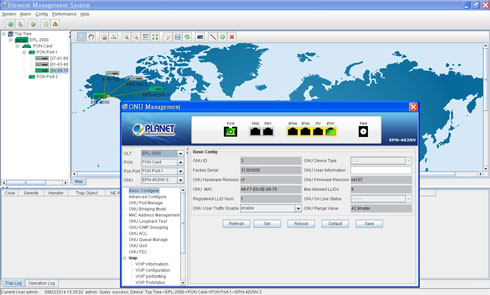 TR-069 Remote Management
To reduce the service provider's manpower needed for on-site maintenance, the EPN-402NV supports TR-069 (WAN Management Protocol) standard that allows an Auto-Configuration Server (ACS) to perform auto-configuration, provision, collection, and diagnostics to this device remotely.