Centralized Power Distribution for Ethernet Networking
The FGSD-910P, a new member in PLANET 802.3af PoE Fast Ethernet Switch family, is an 8-Port 10/100Mbps 802.3af Power over Ethernet + 1-Gigabit Port Switch with a total of 120 watts of PoE budget, which is an ideal solution to fulfilling the demand of sufficient PoE power for network applications with Fast Ethernet speed transmission. The eight 802.3af PoE ports provide PoE power injector function which is able to drive 8 IEEE 802.3af compliant powered devices. The FGSD-910P also provides a simple, cost-effective and non-blocking wire-speed performance. It comes with a 12-inch metal compact housing, suitable for desktop deployment in SOHO office or department network application.Ideal Solution for Securing IP Surveillance Infrastructure
Particularly designed for the growing popular IP Surveillance applications, the FGSD-910P 802.3af PoE Switch is positioned as a Surveillance Switch for quick and easy PoE IP camera deployment with power feeding. The FGSD-910P provides 802.3af PoE functions along with 8 10/100Base-TX ports featuring 15.4-watt 802.3af PoE in RJ-45 copper interfaces and 1 extra Gigabit TP interface supporting high speed transmission of surveillance images and videos.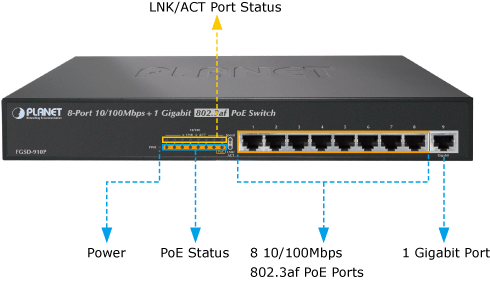 Perfectly Integrated Solution for PoE IP Camera and NVR System
Different from the general IT industrial PoE Switch which usually comes with 12 or 24 PoE ports, the FGSD-910P provides eight 802.3af PoE ports for catering to small scale of IP Surveillance networks at a lower total cost. The FGSD-910P comes with high performance switch architecture and 120-watt PoE power budget. The recorded video files from 8 PoE IP Cameras can be powered by the FGSD-910P and saved in the 8-channel NVR system or surveillance software to perform comprehensive security monitoring. For instance, one FGSD-910P can be combined with one 8-Channel NVR and 8 PoE IP cameras as a kit for the administrators to centrally and efficiently manage the surveillance system in the local LAN and the remote site via Internet.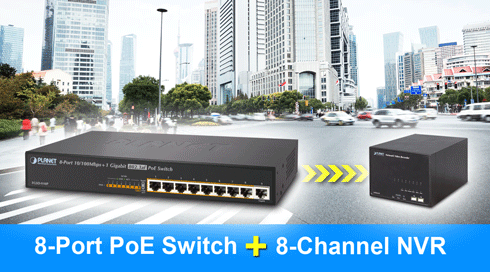 Stable and High Performance Switch Architecture
The FGSD-910P has a 4K MAC address table, featuring high performance switch architecture capable of providing the non-blocking 3.6Gbps switch fabric and wire-speed throughput as high as 2.67Mpps, which greatly simplifies the tasks of upgrading the LAN for catering to increasing bandwidth demands. Besides, the 802.3x Full-Duplex flow control function of the FGSD-910P enables PD devices and servers to be directly connected to the switch for wire-speed packet transfer performance without the risk of packet loss.
The FGSD-910P RJ-45 copper interfaces support 10/100Mbps Auto-Negotiation at port 1 to port 8 and 10/100/1000Mbps Auto-Negotiation at port 9 for optimal speed detection through RJ-45 Category 6, 5 or 5e cables. It also supports standard Auto-MDI/MDI-X that can detect the type of connection to any Ethernet device without requiring special straight or crossover cables.Easy Cable Connection
With data and power over Ethernet from one unit, the FGSD-910P reduces cabling requirements and eliminates the need for dedicated electrical outlets on the wall, ceiling or any unreachable place. A wire that carries both data and power can lower the installation costs, simplify the installation effort and eliminate the need for electricians or extension cords. Providing 8 PoE interfaces, the FGSD-910P is ideal for small businesses and workgroups requiring deploying the PoE for the wireless access points, IP-based surveillance camera or IP phones in any places easily, efficiently and cost-effectively.