Ideal Solution for Secure IP Surveillance Infrastructure
Particularly designed for the growing popular IP surveillance applications, PLANET FGSW-1816HPS 802.3at PoE web smart switch is positioned as a surveillance switch with the central management of remote power control and IP camera monitoring. The FGSW-1816HPS provides intelligent PoE functions along with 16 10/100Base-TX ports featuring 30-watt 802.3at PoE+ with RJ-45 copper interfaces and 2 Gigabit TP/SFP combo interfaces supporting high-speed transmission of surveillance images and videos.

Perfectly- integrated Solution for PoE IP Camera and NVR System
Being different from the general IT industrial PoE switch which usually contains 12 or 24 PoE ports, the FGSW-1816HPS provides 16 802.3at PoE+ ports for catering to medium to large scale of IP surveillance networks at a lower total cost. With its 7.2Gbps high-performance switch architecture and 220-watt PoE power budget, the recorded video files from 16 PoE IP cameras can be powered by the FGSW-1816HPS and saved in the 8 / 16 / 32-channel NVR systems or surveillance software to perform comprehensive security monitoring. For instance, one FGSW-1816HPS can be combined with one 16-channel NVR and 16 PoE IP cameras as a kit for the administrators to centrally and efficiently manage the surveillance system in the local LAN and the remote site via Internet.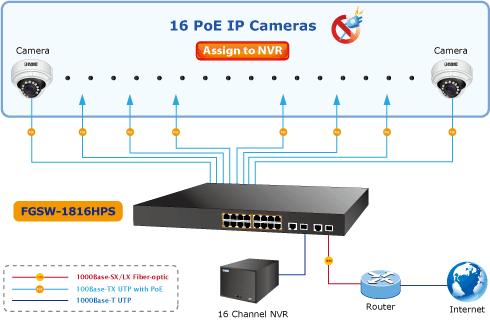 Intelligent LED Indicator for Real-time PoE Usage
The FGSW-1816HPS helps users to monitor the current status of PoE power usage easily and efficiently by its advanced LED indication. Called "PoE Power Usage", the front panel of the FGSW-1816HPS Fast Ethernet PoE+ Switch has four orange LEDs indicating 50W, 100W, 150W and 190W of PoE power usage.

PoE Schedule for Energy Saving
Besides being used as an IP Surveillance, the FGSW-1816HPS is certainly applicable to constructing any PoE network including VoIP and wireless LAN. Under the trend of energy saving worldwide and contributing to environmental protection on the Earth, the FGSW-1816HPS can effectively control the power supply besides its capability of giving high watts power. The "PoE schedule" function is for you to enable or disable PoE power feeding for each PoE port during specified time intervals and it is a powerful function to help SMBs or enterprises save power and money.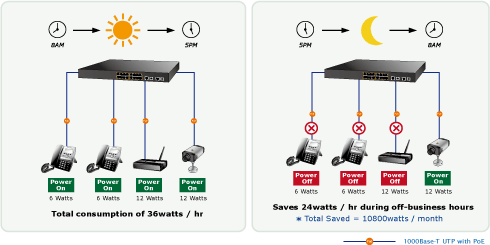 Robust Layer 2 Features
The FGSW-1816HPS can be programmed for advanced switch management functions such as dynamic port link aggregation (LACP), Spanning Tree Protocol (STP), IGMP Snooping v1, v2, bandwidth control and L2/L4 security control. The FGSW-1816HPS provides IEEE 802.1Q tagged VLAN, port-based VLAN and MTU VLAN. The VLAN groups allowed will be maximally up to 32. Via aggregation of supporting ports, the FGSW-1816HPS allows the operation of a high-speed trunk combining multiple ports and supports fail-over as well.Flexible and Extendable Uplink Solution
The FGSW-1816HPS provides 2 extra Gigabit TP/SFP combo interfaces supporting 10/100/1000Base-T RJ-45 copper to connect with surveillance network devices such as NVR, Video Streaming Server or NAS to facilitate surveillance management. Or through these dual-speed fiber SFP slots, it can also connect with the 1000Base-SX/LX SFP (Small Form-factor Pluggable) fiber transceiver to uplink to backbone switch and monitoring center in long distance. The distance can be extended from 550m to 2km (multi-mode fiber), even going up to above 10/20/30/40/50/70/120km (single-mode fiber or WDM fiber). They are well suited for applications within the enterprise data centers and distributions.