Cost-effective Centralized Power Distribution with Remote Management
For cost saving and the flexibility of using PoE power provision, half of the 10/100Mbps TP ports of the FSD-804PS provide PoE power injector function which is able to drive 4 IEEE 802.3af compliant powered devices.For SOHO or department network, the switch also provides a simple, cost-effective, and highly reliable network connection for data as well as power. Furthermore, it is the ideal device for bridging among Ethernet, Fast Ethernet workgroups and networks.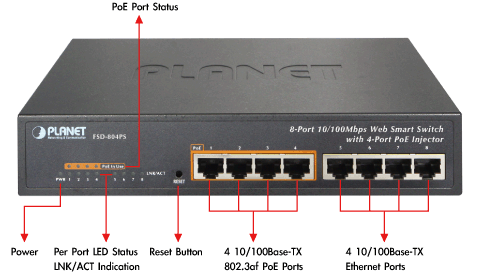 Easy Cabling installation
With data and power over Ethernet, the FSD-804PS is able to reduce cable installation and eliminate the need for electrical outlets on the wall, ceiling or any unreachable place. Energy saving is the key feature of the use of PoE in the deployment. With more efficient switching power supply, the efficiency of the FSD-804PS would be much better than four linear power adapters in the long run.Providing 4 PoE interfaces, the FSD-804PS is ideal for small businesses and workgroups requiring to utilize PoE for the deployment of wireless access points, IP-based surveillance cameras or IP phones in any places easily, efficiently and cost-effectively.Friendly / Simple Web Management Interface
The Web smart functions make it easy to survey and control the PoE power provision to the devices by the Web interface. Basic switching functions such as VLAN, Bandwidth Control, Storm Control and QoS are available for network management.