Ideal Combination of 10G Uplink, High-density, Gigabit and Layer 3 Static Routing
PLANET GS-5220-46S2C4X is a Layer 2+ Managed Gigabit Switch that features 46-port 100/1000BASE-X + 2-port Gigabit TP/SFP Combo + 4-port 10G SFP+ and supports static Layer 3 routing in a 1U case. With 10Gbps uplink capability and total 176Gbps high performance switch architecture, the GS-5220-46S2C4X can handle extremely large amounts of data in a secure topology linking to a data center/service provider backbone or high capacity servers. Each of the SFP+ slots supports Dual-Speed, 10GBASE-SR/LR or 1000BASE-SX/LX, meaning the administrator now can flexibly choose the suitable SFP/SFP+ transceiver according to the transmission distance or the transmission speed required to extend the network efficiently.


High-level IPTV Application with MVR (Multicast VLAN Registration) Solution
High-level IPTV application is designed for using wide-scale deployment of multicast traffic across a service provider network. It's important to reduce the redundant bandwidth of IPTV stream in the higher bandwidth required network. MVR allows a subscriber on a port to subscribe and unsubscribe to a multicast stream on the network-wide multicast VLAN. It enables the single multicast VLAN to be shared in the network while subscribers remain in separate VLANs. MVR provides the ability to continuously send multicast streams in the multicast VLAN, but to isolate the streams from the subscriber VLANs for bandwidth and security reasons.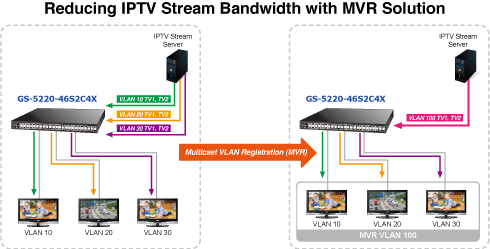 Intelligent SFP Diagnosis Mechanism
The GS-5220-46S2C4X supports SFP-DDM (Digital Diagnostic Monitor) function that greatly helps network administrator to easily monitor real-time parameters of the SFP, such as optical output power, optical input power, temperature, laser bias current, and transceiver supply voltage.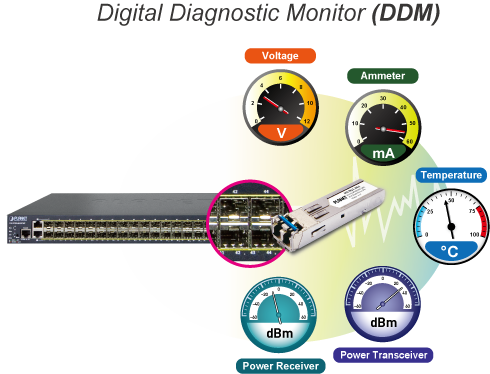 IPv6 / IPv4 Dual Stack
Supporting both IPv6 and IPv4 protocols, the GS-5220-46S2C4X helps the data center/service provider to experience the IPv6 era with the lowest investment as its network facilities need not to be replaced or overhauled if the IPv6 FTTx edge network is set up.
Layer 3 IPv4 and IPv6 VLAN Routing for Secure and Flexible Management
The GS-5220-46S2C4X not only provides ultra high transmission performance, and excellent layer 2 and layer 4 technologies, but also layer 3 IPv4/IPv6 VLAN routing feature which allows to cross over different VLANs and different IP addresses for the purpose of having a highly-secured, flexible management and simpler networking application.
Robust Layer 2 Features
The GS-5220-46S2C4X can be programmed for advanced switch management functions such as dynamic port link aggregation, Q-in-Q VLAN, private VLAN, Multiple Spanning Tree protocol (MSTP), Layer 2 to Layer 4 QoS, bandwidth control and IGMP/MLD Snooping. Via the link aggregation of supporting ports, the GS-5220-46S2C4X allows the operation of a high-speed trunk to combine with multiple fiber ports and supports fail-over as well.

Powerful Security
The GS-5220-46S2C4X offers a comprehensive layer 2 to layer 4 Access Control List (ACL) for enforcing security to the edge. It can be used to restrict network access by denying packets based on source and destination IP address, TCP/UDP ports or defined typical network applications. Its protection mechanism also comprises 802.1X Port-based and MAC-based user and device authentication. With the private VLAN function, communication between edge ports can be prevented to ensure user privacy. The GS-5220-46S2C4X also provides DHCP Snooping, IP Source Guard and Dynamic ARP Inspection functions to prevent IP snooping from attack and discard ARP packets with invalid MAC address. The network administrators can now construct highly-secured corporate networks with considerably less time and effort than before.Excellent Traffic Control
The GS-5220-46S2C4X is loaded with powerful traffic management and QoS features to enhance connection services by service provider. The QoS features include wire-speed Layer 4 traffic classifiers and bandwidth limit that are particularly useful for multi-tenant unit, multi business unit, Telco, or network service provider's applications. It also empowers the enterprises to take full advantage of the limited network resources and guarantees the best performance in VoIP and video conferencing transmission.
Efficient and Secure Management
The GS-5220-46S2C4X Managed Switch is equipped with console, Web and SNMP management interfaces. The GS-5220-46S2C4X supports standard Simple Network Management Protocol (SNMP) and can be managed via any management software based on standard of SNMP protocol. For reducing product learning time, the GS-5220-46S2C4X offers Cisco-like command via Telnet or console port and customer doesn't need to learn new command from these switches. Moreover, the GS-5220-46S2C4X offers secure remote management by supporting SSH, SSL and SNMPv3 connections which encrypt the packet content at each session.Flexibility and Extension Solution
The 48 mini-GBIC slots built in the GS-5220-46S2C4X support dual speed as it features 100BASE-FX and 1000BASE-SX/LX SFP (Small Form-factor Pluggable) fiber-optic modules. Now the administrator can flexibly choose the suitable SFP transceiver according to not only the transmission distance, but also the transmission speed required. The distance can be extended from 550 meters to 2km (multi-mode fiber) up to above 10/20/30/40/50/70/120 kilometers (single-mode fiber or WDM fiber). They are well suited for applications within the enterprise data centers and distributions.