High Power PoE for Security and Public Service Applications
To fulfill the demand of High Power PoE for network applications with Gigabit transmission, PLANET GSD-808HP.3at PoE Gigabit Ethernet Switch is an ideal solution. Each 10/100/1000Mbps port of the GSD-808HP features IEEE 802.3af and IEEE 802.3at Power over Ethernet (PoE) that combine up to 130-watt PoE budget on the whole system, It is designed specifically to satisfy the growing demand of higher power consuming network PD (powered devices) such as PTZ (Pan, Tilt & Zoom) / speed dome network cameras, multi-channel (802.11a/b/g/n) wireless LAN access points and other network devices by doubling PoE power, more than the current conventional 802.3af PoE.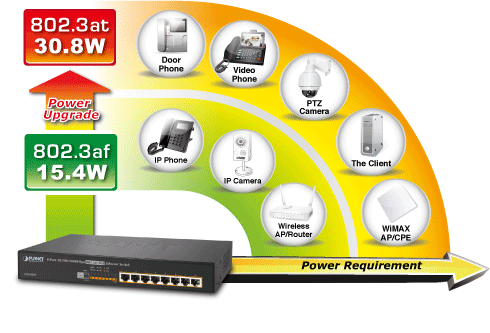 Automatic PoE Management
To facilitate power management, the GSD-808HP implements powerful PoE intelligent features:
■ PoE Power Usage Threshold Alarm
■ PoE Power Budget Control
The GSD-808HP is equipped with two orange LEDs located on the left side of the GSD-808HP front panel. These are PoE Power Usage indicators. 1-4 means that it is counting from port 1 to 4 of PoE output, while 5-8 means that it is counting from port 5 to 8 of PoE output. The LED will light up to show 80% when 1-4 or 5-8 PoE output is over 80%, and if 1-4 or 5-8 PoE output is over 95%, the LED will blink to warn customers. With these LED indications, you can monitor the current PoE power usage status of the GSD-808HP easily and efficiently.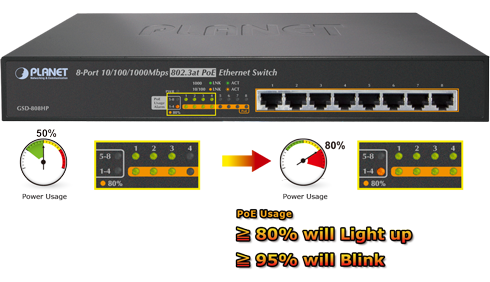 Energy-Saving
The GSD-808HP uses new engine that incorporates advanced Green Networking technologies:
■ Idle Mode Link Down power saving
■ Intelligent Scales Power based on cable length
The Idle Mode Link Down power saving of the GSD-808HP complies with IEEE 802.3az Energy Efficient Ethernet (EEE) standard to automatically lower power for a given port when it is not linked.Easy Installation & Cable Connection
Providing data transfer and High Power PoE in one unit, the GSD-808HP is able to reduce the need of extension cables and dedicated electrical outlets on the wall, ceiling or any unreachable place. It helps to lower the installation costs and simplify the installation effort.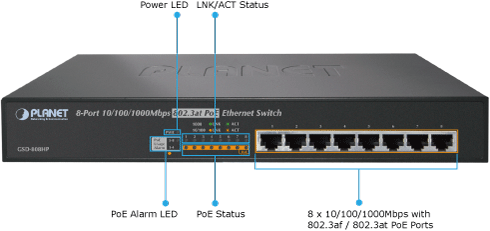 All RJ45 copper interfaces of the GSD-808HP support 10/100/1000Mbps auto-negotiation for optimal speed detection through RJ45 Category 6, 5 or 5e cables. It also supports standard auto-MDI/MDI-X that can detect the type of connection to any Ethernet device without requiring special straight or crossover cables.