Security is Ensured with PLANET Video Door Phone
PLANET HDP-5260PT is a SIP Door Phone with PoE feature. It supports H.264/H.263 compression format and delivers excellent picture quality in 720p HD resolutions at 10~30 frames per second (fps). The door phone has night vision that can capture any unusual activity in low light. It also supports HD (High Definition) voice and G.722 codec that relax bandwidth limitation and provide clear communications. It provides the flexibility and control required for high-quality property complex visitor management, property protection, intercom, and message service.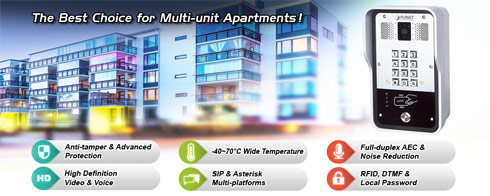 Keyless Control and Convenience
PLANET HDP-5260PT advancements in residential door lock security have been enhanced with secure authentication technology which supports many ways of opening door without a key. The door not only can be open via an RFID card but also a password if it is an electronic door lock. Thus, you can enter your home without having to use a key.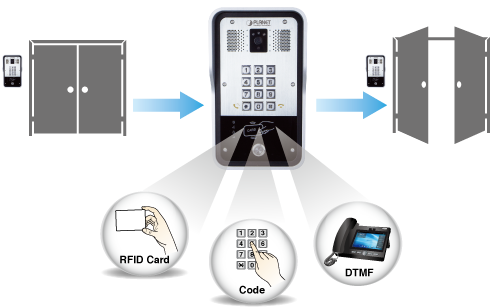 SIP 2.0 Standard Compliance
The HDP-5260PT supports Session Initiation Protocol 2.0 (RFC 3261) for easy integration with general voice over IP system. The IP phone is able to broadly interoperate with equipment provided by VoIP infrastructure providers, thus enabling them to provide their customers with better multimedia exchange services.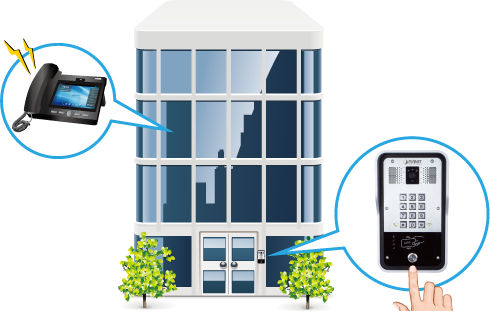 A Door Guard for Extreme Conditions
The HDP-5260PT comes with a robust door intercom for apartment complexes to ensure maximum resilience and security. Its camera with night vision and resilience to dust, water (IP65) and vandalism (IK10) is watchful, making sure the area remains safe.

AEC (Acoustic Echo Cancellation)
Acoustic Echo Cancellation (AEC) technology is adopted in PLANET's HDP-5260PT Door Phone and HTS-1000P Touch Screen Control Pad to enable users to minimize the voice/sound signal distortion shown in the diagram below, thus guaranteeing the best-in-class sound quality.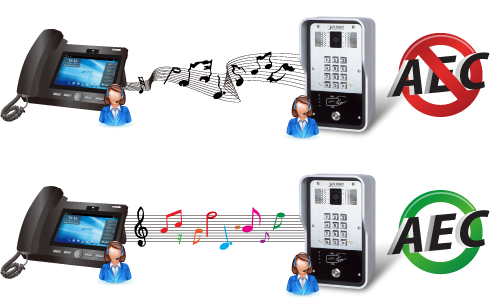 Finding the Door Phone via Planet Search Tool
PLANET Search Tool is a simple, freely-available application for locating intercoms from the IP family in the network. After searching the network, the application shows the device name, firmware version and IP address of all intercoms found on a chart. This simplifies the administration and installation of intercom systems. Simply run the easy-to-use software to get immediate results.