PLANET IGS-504HPT is an Industrial Gigabit 802.3at PoE+ Switch providing Power over Ethernet capability and non-blocking wire-speed Gigabit performance in harsh industrial environment. It provides 4-port 10/100/1000Base-T copper with 802.3af/at PoE injector delivered in an IP30 rugged strong case with redundant power system. The IGS-504HPT is well suited for applications in deploying surveillance system, and securing control and wireless service in climatically demanding environments with wide temperature range from -40 to 75 degrees C.

High Power PoE for Security and Public Service Applications
To fulfill the demand of High Power PoE for network applications with Gigabit speed transmission under wide temperature, the IGS-504HPT provides 4 10/100/1000Mbps ports featuring both IEEE 802.3af and IEEE 802.3at Power over Ethernet Plus (PoE+) that combine up to 30 watts of power output and data per port over one Cat.5E / 6 Ethernet cable. With totally 120-watt PoE budget on the whole system, the IGS-504HPT is designed specifically to satisfy the growing demand of higher power consuming network PD (powered devices) such as PTZ (Pan, Tilt & Zoom) / Speed Dome network cameras, multi-channel (802.11a / b / g / n) outdoor wireless LAN access points and other PoE network devices by providing double PoE power, rather than the current conventional 802.3af PoE.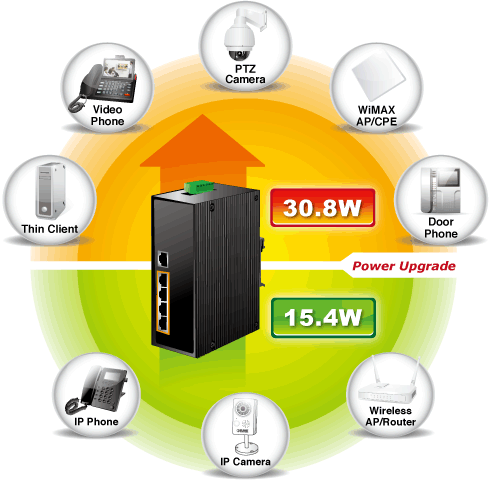 Intelligent LED Indicator for Real-time PoE Usage
The IGS-504HPT helps users to monitor the current status of PoE power usage easily and efficiently by its advanced LED indication. Called "PoE Power Usage", the front panel of the Industrial Gigabit PoE+ Switch has four orange LEDs indicating 30W, 60W, 90W and 120W of power usage.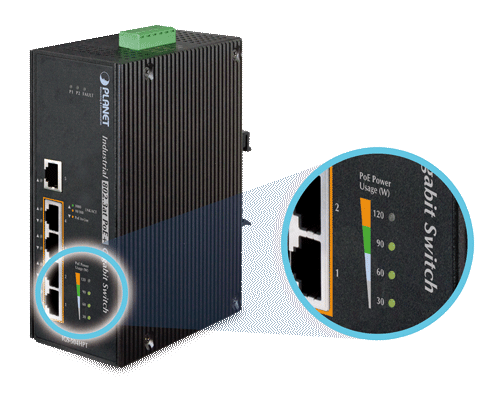 Convenient and Reliable Power System
To facilitate the 802.3at High Power PoE usage with the commonly used 48V DC power input in transportation and industrial-level applications, the IGS-504HPT adopts 48V DC to 52V DC power boost technology to solve power source issue which is not required for special power supplies to achieve the level of High Power PoE+ output. To enhance the operation reliability and flexibility, the IGS-504HPT is equipped with two DC power input connectors for redundant power supply installation.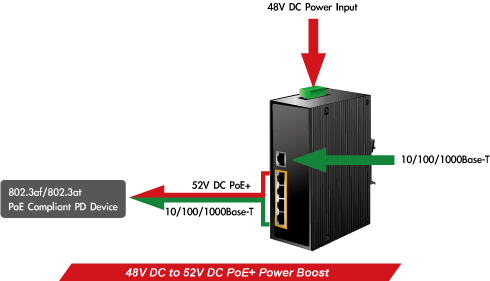 High Power Budget for PoE Extension
With 30-watt PoE output capability, the IGS-504HPT can extend much longer distance by using PLANET PoE Extender for powering up the IEEE 802.3af PoE PD devices which can be installed over more than 100 meters away. By daisy-chaining multiple PLANET PoE Extenders, it offers the great flexibility of doubling, tripling or quadrupling the distance of PoE network.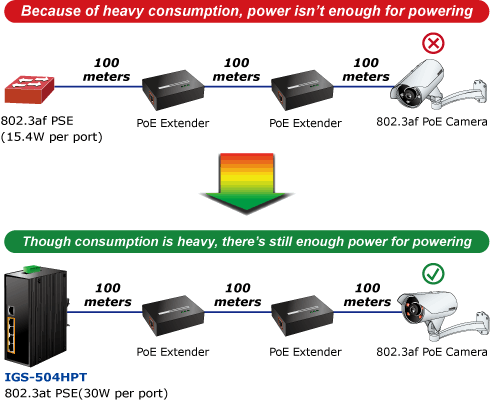 Environmentally Hardened Design
The IGS-504HPT is equipped with the rugged IP30 metal case for easy deployment in heavy Industrial demanding environments. With IP30 industrial case protection, the IGS-504HPT provides a high level of immunity against electromagnetic interference and heavy electrical surges which are usually found on plant floors or in curb side traffic control cabinets. Being able to operate under the temperature range from -40 to 75 degrees C, the IGS-504HPT can be placed in almost any difficult environment. The IGS-504HPT also allows either DIN rail or wall mounting for efficient use of cabinet space.