Perfect, Slim-type Managed Switch with More Practicability and Convenience
PLANET IGS-801M is an Industrial 8-Port Full Gigabit Managed Ethernet Switch specially designed to transmit reliable but high-speed data in heavy industrial demanding environments. It provides 8-Port 10/100/1000BASE-T copper interfaces delivered in an IP30 rugged strong case with redundant power system. Besides support for 16Gbps switch fabric to handle extremely large amounts of video, voice and important data in a secure topology, the IGS-801M provides user-friendly but advanced IPv6/IPv4 management interfaces and abundant L2/L4 switching functions. It is the best investment for industrial business expanding or upgrading its network infrastructure.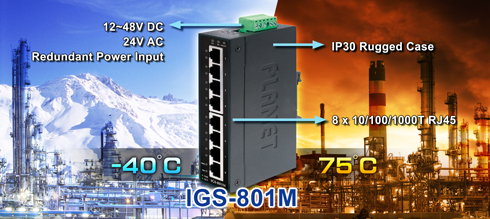 Environmentally Hardened Design
With IP30 industrial case protection, the IGS-801M provides a high level of immunity against electromagnetic interference and heavy electrical surges which are usually found on plant floors or in curb-side traffic control cabinets. It also possesses an integrated power supply source with wide range of voltages (12 to 48V DC or 24V AC) for worldwide high availability applications requiring dual or backup power inputs. Being able to operate under the temperature range from -40 to 75 degrees C, the IGS-801M can be placed in almost any difficult environment.Robust Layer 2 Features
The IGS-801M can be programmed for advanced switch management functions such as dynamic port link aggregation, 802.1Q VLAN and Q-in-Q VLAN, Multiple Spanning Tree Protocol (MSTP), loop and BPDU guard, IGMP snooping, and MLD snooping. Via the link aggregation, the IGS-801M allows the operation of a high-speed trunk to combine with multiple ports, and supports fail-over as well. Also, the Link Layer Discovery Protocol (LLDP) is the Layer 2 protocol included to help discover basic information about neighboring devices on the local broadcast domain.

Efficient Traffic Control
The IGS-801M is loaded with robust QoS features and powerful traffic management to enhance services to business-class data, voice and video solutions. The functionality includes broadcast/multicast storm control, per port bandwidth control, IP DSCP QoS priority and remarking. It guarantees the best performance for VoIP and video stream transmission, and empowers the enterprises to take full advantage of the limited network resources.Powerful Security
PLANET IGS-801M offers comprehensive IPv4/IPv6 Layer 2 to Layer 4 Access Control List (ACL) for enforcing security to the edge. It can be used to restrict network access by denying packets based on source and destination IP address, TCP/UDP ports or defined typical network applications. Its protection mechanism also comprises 802.1X port-based user and device authentication, which can be deployed with RADIUS to ensure the port level security and block illegal users. With the protected port function, communication between edge ports can be prevented to guarantee user privacy. Furthermore, port security function allows to limit the number of network devices on a given port.Advanced Network Security
The IGS-801M also provides DHCP snooping, IP source guard and dynamic ARP inspection functions to prevent IP snooping from attack and discarded ARP packets with invalid MAC address. The network administrators can now construct highly-secure corporate networks with considerably less time and effort than before.Friendly and Secure Management
For efficient management, the IGS-801M is equipped with web, Telnet and SNMP management interfaces. With the built-in web-based management interface, the IGS-801M offers an easy-to-use, platform-independent management and configuration facility. By supporting the standard SNMP, the switch can be managed via any standard management software. For text-based management, the switch can be accessed via Telnet. Moreover, the IGS-801M offers secure remote management by supporting SSH, SSL and SNMP v3 connections which encrypt the packet content at each session.