Remotely reboot anything from anywhere
PLANET is glad to introduce the IPM-1200x 12-port IP Power Management device. The IPM-1200x series provides the useful function of managing power for any combination to connect with itself. With the innovative IP-based technology, PLANET has made the traditional power management equipment true networking devices.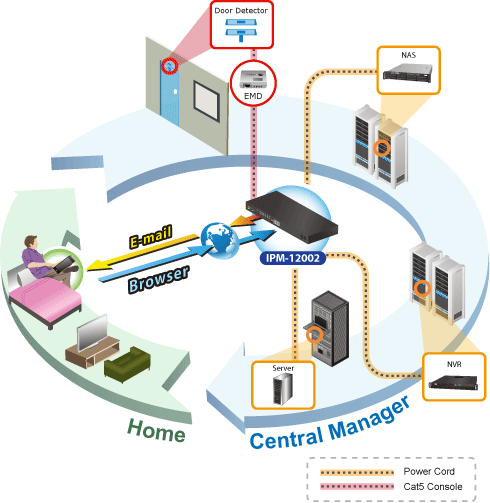 Intelligent Power Management
With 12 power outlets, each of them can be controlled or monitored individually. You can control those power outlets via the console or web interfaces. You can also use the front panel to operate the power outlets. Providing 7-segment LED and port status indicators, users can know easily the status of the IPM-1200x series immediately, without logging in configure interface.
Easy Maintenance and Configuration
In addition to manual remote control, the IPM-1200x series provides event-triggered or schedule-based control to turn connected equipment on or off or to reboot systems. The IPM-1200x series is easily configured with its Plug-and-Play ability. The IPM-1200x series keeps a detailed log of all connected devices so that in case of severe errors from some devices, the status or failures can easily be solved.Cascade controls up to 6 IPM from single console
The IPM-1200x series can be daisy-chained to manage even more devices, so your server room management can expand in step with your company's growth. For ease of management, this allows IT administrators to completely control an IT device from a single user interface.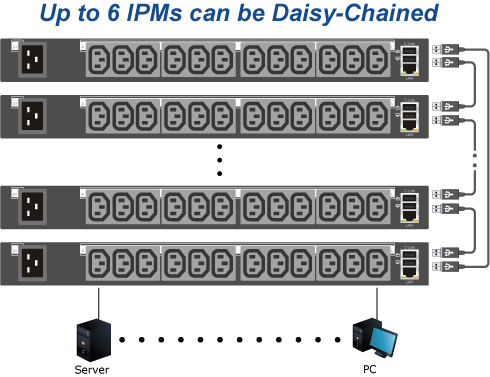 EMD (Environmental Monitoring Device)
The IPM-1200x series has equipped with a console port for connecting an EMD (Environmental Monitoring Device) for sensing temperature and humidity along with two alarms that can be activated when the sensors show unusual values. The IPM-1200x series provides two digital outputs for connecting status indicators or digital switches. When users create a new server room or the environment has been monitoring, the IPM-1200x series is the best choice for the requirements.