Planet IPOE-162 is a Single-Port, Mid-Span Industrial IEEE 802.3at High Power over Ethernet Injector providing maximum up to 30 Watts of power output over Ethernet cables. It is specifically designed to fulfill the growing demand of higher power network equipment such as PTZ (Pan, Tilt & Zoom) network cameras, PTZ speed dome, color touch-screen / video and voice over IP (VoIP) telephones, multi-channel (11a/b/g/n) wireless LAN access points and other network devices that need higher power to work stably.

Quick and Easy High Power PoE Network Deployment
The IPOE-162 can deliver 30-watt 56V DC power over Cat.5/5e/6 Ethernet cables which allow data and power to transmit simultaneously through the cable between the Injector (IPOE-162) and PoE PD (Powered Device) or PoE Splitter (IPOE-162S / POE-162S). The maximum distance between the Injector and Splitter is 100 meters. The IPOE-162 is also compatible with IEEE 802.3af PoE PD or PoE Splitter and provides a maximum of up to 15.4-watt power output, like the POE-151S and POE-152S do. With Industrial IEEE 802.3at Gigabit High Power over Ethernet devices installed, the system administrator only has to use one single RJ-45 Ethernet cable to carry both power and data to each device. It would make the network deployment easier and more reliably.

Convenient and Reliable Power System
To facilitate the 802.3at High Power PoE usage with commonly used 24V DC / 48V DC power input or 24V AC power input for transportation and industrial-level applications, the IPOE-162 adopts 24 / 48V DC to 56V power boost technology to solve power source issue but does not require special power supplies. The IPOE-162 provides an integrated power solution with a wide range of voltages (24V / 48V DC) for worldwide operability. It also provides dual-redundant, reversible polarity 24V / 48V DC power or 24V AC power supply inputs for high availability applications.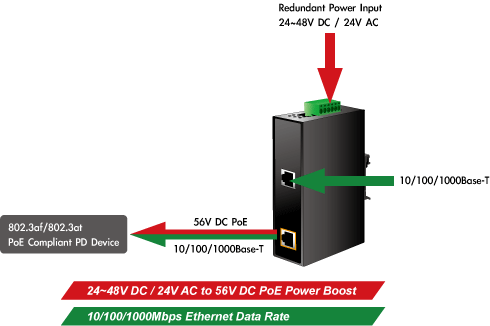 Stable Operating Performance under Difficult Environments
Today, the PoE demand expands from commercial applications to many critical networks in the harsh environment. The IPOE-162 will be one of the ideal solutions that provide a high level of immunity against electromagnetic interference and heavy electrical surges typical of environments found on plant floors or in curb side traffic control cabinets. The IPOE-162 can operate stably under temperature range from -40 to 75 degrees C which enables the users to conveniently apply the device in almost any location of the network. The IPOE-162 is also equipped with a compact IP30 standard metal case that allows either DIN rail or wall mounting for efficient use of cabinet space.