Highly Convenient and Robust Industrial PoE Splitter
PLANET IPOE-171S is an Industrial-grade Ultra Power over Ethernet Splitter which delivers both the Ethernet data and a 60-watt to 110-watt PoE power from Ultra PoE PSE (Power Source Equipment) over an UTP cable. It comes with a selectable 12V or 24V DC DIP switch, enabling to deliver a maximum of 95-watt power output to a non-PoE powered Ethernet device. It supports passive 10/100/1000Mbps Ethernet connection and distance up to 100 meters. To fulfill the growing industrial applications, the IPOE-171S is designed to work under the operating temperature range from -40 to 75 degrees C. The IPOE-171S is an ideal solution to transferring power to a traditional network device with high power demand directly without the need to install additional power outlets and electrical cabling in the industrial environment.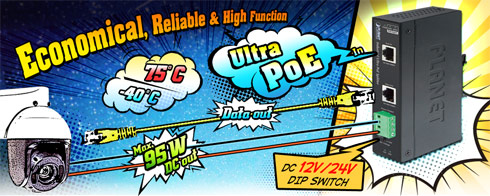 Quick and Easy Ultra Power PoE Network Deployment
Many high-power required traditional Ethernet devices are not designed with PoE PD (Powered Device) capability to accept power over UTP cable. They can only get power through their DC jack while their RJ45 interfaces accept only Ethernet data. The IPOE-171S, functioned as an Ultra PoE PD (Powered Device), splits the combined data and power stream into two separate cords to offer more non-PoE applications, such as:
■ POS
■ AIO (All-in-One) touch PC and thin-client
■ Digital signage and display tablet
■ PTZ speed dome
■ Other network devices that need higher power to work normally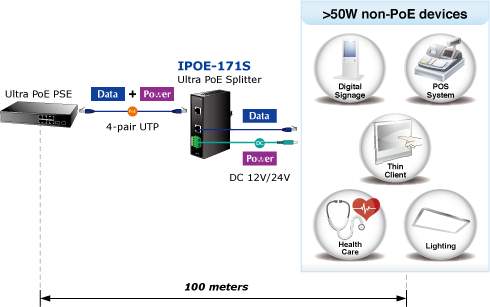 When functioned with the IPOE-171S, these non-PoE Ethernet devices can immediately become PoE-ready without any modification required on their side. The IPOE-171S frees the device deployment from restrictions due to power outlet locations, which eliminate the costs for additional AC wiring and reduce the installation time.

Innovative, Selectable DC Power Output Voltage
Via the innovative 12/24 volt DIP switch on the front panel, the IPOE-171S can supply either 24V DC power to industrial equipment or 12V DC output to the common network devices. It highly increases the flexibility of the product applications.
Dual Power Output Capability
The IPOE-171S shares its 55-watt output power with not only a single power-hungry equipment but also two non-PoE Ethernet devices simultaneously through a 4-pin terminal block. For example, the two power output can be applied as shown below to completely solve the need of electric source:
■ IP camera (Power 1) + Outdoor housing with fan and heater (Power 2)
■ IP camera (Power 1) + Pan & Tilt motor (Power 2)
■ Analog camera (Power 1) + IP video server (Power 2)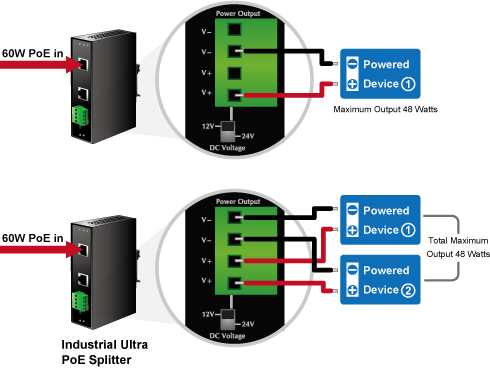 Environmentally Hardened Design
With compact, slim type IP30 industrial case protection, the space-saving Industrial Ultra PoE Splitter IPOE-171S can be placed in almost any difficult environment. It allows either DIN rail or wall mounting for efficient use of cabinet space. Being able to operate under the temperature range from -40 to 75 degrees C, the IPOE-171S is the ideal product for co-working with Industrial High Power Injector which can feed the power to non-PoE devices up to 100 meters (328 feet) away in those harsh environments.