Slim Type with more Practicability and Convenience
PLANET ISW-801T, an Industrial 8-port Fast Ethernet Switch, provides non-blocking wire-speed performance in harsh industrial environment. It also provides 8-port 10/100BASE-TX RJ45 copper interfaces delivered in an IP30 rugged, strong case with redundant power system. Its slim case is suitable for such applications as surveillance system deployments, control management and wireless service in climatically demanding environments with wide temperature range from -40 to 75 degrees C.Energy Saving with Lower Power Consumption
The ISW-801T, adopting the advanced green networking technology, provides the IEEE 802.3az protocol based power saving. This feature makes the ISW-801T consume very low power in full load operation mode, which helps conserve energy effectively but maintains high performance efficiently.Stable Performance under Difficult Environments
The ISW-801T provides a high level of immunity against electromagnetic interference and heavy electrical surges which are usually found on plant floors or in curb-side traffic control cabinets. Being able to operate under the temperature range from -40 to 75 degrees C, the ISW-801T can be placed in almost any difficult environment. The ISW-801T also possesses an integrated power supply source with wide range of voltages (12 to 48V DC, 24V AC) for worldwide high availability applications requiring dual or backup power inputs.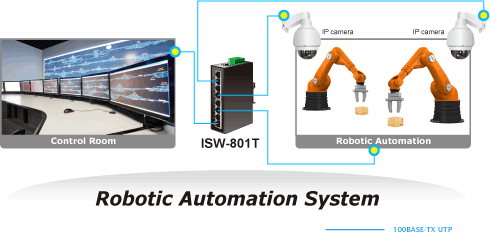 Robust Switch Performance
Built in a high-performance switch architecture, the ISW-801T comes with eight 10/100Mbps Fast Ethernet ports providing non-blocking switch fabric and wire-speed throughput as high as 1.6Gbps, and the 1K MAC address. Thus, the ISW-801T can transfer wire-speed packets without the risk of packet loss. The flow control function enables the ISW-801T to provide fast and reliable data transfer.All of the RJ45 copper interfaces in the ISW-801T support 10/100Mbps auto negotiation for optimal speed detection through RJ45 Category 5 or 5e cables. The standard auto-MDI/MDI-X support can detect the type of connection to any Ethernet device without requiring special straight-through or crossover cables.