Powerful Layer 3 Gigabit Routing and Power over Ethernet Solution
PLANET SGS-6341-24P4X is a Layer 3 PoE Stackable Managed Gigabit Switch that provides high-density performance, Layer 3 static routing, RIP (Routing Information Protocol) and OSPF (Open Shortest Path First). With 128Gbps switching fabric, the SGS-6341-24P4X can handle extremely large amounts of data in a secure topology linking to an enterprise backbone or high capacity servers. The powerful WRR (Weighted Round Robin) and Network Security features make the SGS-6341-24P4X perform effective data traffic control for ISP and enterprise VoIP, video streaming, and multicast applications. The SGS-6341-24P4X has 24 IEEE 802.3at PoE+ ports and PoE budget up to 370 watts for catering to medium to large scale of VoIP or IP surveillance networks at a lower total cost.

Centralized Power Management for Gigabit Ethernet PoE Networking
To fulfill the needs of higher power required PoE network applications with Gigabit speed transmission, the SGS-6341-24P4X features high-performance Gigabit IEEE 802.3af PoE (up to 15.4 watts) and IEEE 802.3at PoE+ (up to 30 watts) on all ports. It perfectly meets the power requirements of PoE VoIP phone and all kinds of PoE IP cameras such as IR, PTZ, speed dome cameras or even box type IP cameras with built-in fan and heater.The SGS-6341-24P4X's PoE capabilities also help to reduce deployment costs for network devices as a result of freeing from the restrictions of power outlet locations. Power and data switching are integrated into one unit, delivered over a single cable and managed centrally. It thus eliminates the cost for additional AC wiring and reduces installation time.PoE Schedule for Energy Saving
Besides being used for IP surveillance, the SGS-6341-24P4X is certainly applicable to build any PoE network including VoIP and wireless LAN. Under the trend of energy saving worldwide and contributing to the environmental protection on the Earth, the SGS-6341-24P4X can effectively control the power supply besides its capability of giving high watts power. The "PoE schedule" function helps you to enable or disable PoE power feeding for each PoE port during specified time intervals and it is a powerful function to help SMBs or enterprises save energy and budget.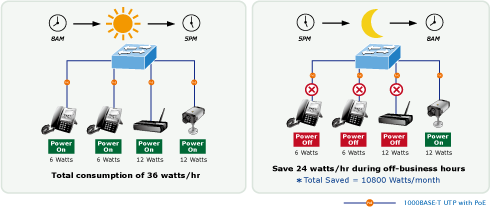 High Performance 10Gbps Ethernet Capacity
The four SFP+ slots built in the SGS-6341-24P4X boasts a high-performance switch architecture that is capable of providing non-blocking switch fabric and wire-speed throughput as high as 128Gbps, which greatly simplifies the tasks of upgrading the LAN for catering to increasing bandwidth demands. Each of the SFP+ slots supports Dual-Speed, 10GBASE-SR/LR or 1000BASE-SX/LX, meaning the administrator now can flexibly choose the suitable SFP/SFP+ transceiver according to the transmission distance or the transmission speed required to extend the network efficiently.IP Stacking Management
The SGS-6341-24P4X supports IP stacking function that helps network managers to easily configure up to 24 switches in the same series via one single IP address instead of connecting and setting each unit one by one. The IP Stacking technology groups SGS-6341 switch series together to enable centralized management through a single unit, regardless of physical location or switch type, as long as they are connected to the same local network.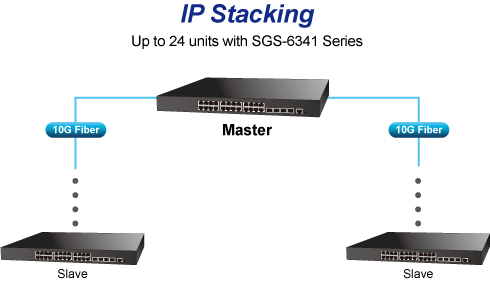 Layer 3 Routing Support
The SGS-6341-24P4X enables the administrator to conveniently boost network efficiency by configuring Layer 3 static routing manually, the RIP (Routing Information Protocol) or OSPF (Open Shortest Path First) settings automatically. The RIP can employ the hop count as a routing metric and prevent routing loops by implementing a limit on the number of hops allowed in a path from the source to a destination. The OSPF is an interior dynamic routing protocol for autonomous system based on link state. The protocol creates a database for link state by exchanging link states among Layer3 switches, and then uses the Shortest Path First algorithm to generate a route table based on that database.Full IPv6 Support
The Stackable Managed Switch provides IPv6 management and enterprise-level secure features such as SSH, ACL, WRR and RADIUS authentication. The SGS-6341-24P4X thus helps the enterprises to step in the IPv6 era with the lowest investment. In addition, you don't need to replace the network facilities when the IPv6 FTTx edge network is built.Robust Layer 2 Features
The SGS-6341-24P4X can be programmed for basic switch management functions such as port speed configuration, port aggregation, VLAN, Multiple Spanning Tree Protocol, WRR, bandwidth control and IGMP snooping. The SGS-6341-24P4X provides 802.1Q tagged VLAN, Q-in-Q, voice VLAN and GVRP Protocol. By supporting port aggregation, the SGS-6341-24P4X allows the operation of a high-speed trunk combined with multiple ports. It enables up to 16 groups for trunking with a maximum of 8 ports for each group.
Excellent Layer 2 to Layer 4 Traffic Control
The SGS-6341-24P4X is loaded with powerful traffic management and WRR features to enhance services offered by telecoms. The WRR functionalities include wire-speed Layer 4 traffic classifiers and bandwidth limitation which are particularly useful for multi-tenant unit, multi-business unit, Telco, or network service applications. It also empowers the enterprises to take full advantage of the limited network resources and guarantees the best in VoIP and video conferencing transmission.Powerful Security
The SGS-6341-24P4X supports ACL policies comprehensively. The traffic can be classified by source/destination IP addresses, source/destination MAC addresses, IP protocols, TCP/UDP, IP precedence, time ranges and ToS. Moreover, various policies can be conducted to forward the traffic.The SGS-6341-24P4X also provides IEEE 802.1x port based access authentication, which can be deployed with RADIUS, to ensure the port level security and block illegal users.Efficient and Secure Management
For efficient management, the SGS-6341-24P4X Managed Gigabit Switch is equipped with console, Web and SNMP management interfaces. With its built-in Web-based management interface, the SGS-6341-24P4X offers an easy-to-use, platform-independent management and configuration facility. The SGS-6341-24P4X supports standard Simple Network Management Protocol (SNMP) and can be managed via any standard-based management software.For reducing product learning time, the SGS-6341-24P4X offers Cisco-like command via Telnet or console port and customer doesn't need to learn new command from these switches. Moreover, the SGS-6341-24P4X offers secure remote management by supporting SSH connection which encrypts the packet content at each session.