PLANET VC-203Px PoE over Coaxial Extender series is designed to extend IP Ethernet transmission and inject power over an existing coaxial cable for distance up to 1000m (3280ft) to PoE IP camera, PoE wireless AP and any 802.3af/at complied powered device (PD).

The VC-203Px consists of a Transmitter and Receiver set which can work in pair without any power adapter anywhere on your network infrastructure. The solution contains two brand-new products:
■ VC-203PT: 1-Port 10/100TX PoE PD + 1-Port BNC PoE over Coaxial PSE Extender – Transmitter
■ VC-203PR: 1-Port 10/100TX PoE PSE + 1-Port BNC PoE over Coaxial PD Extender – Receiver
Models

VC-203PT

VC-203PR

Power over Coax. Extender

Power Input
(Optional)

RJ-45: 802.3af/at PoE In
UTP cable, up to 100m

BNC: PoE over Coaxial In
Coaxial cable, up to 1km

BNC: Power over Coaxial Out
Coaxial cable, up to 1km

RJ-45: 802.3af/at PoE out
UTP cable, up to 100m

2-pin Terminal Block :
Selectable 12V/24V DC
It is a perfect solution for sending IP Video links and power to remote PoE IP camera installation that is beyond the 100 meters distance limit of Ethernet.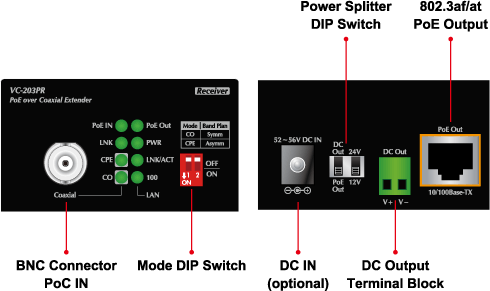 Power over Coaxial
Based on IEEE 802.3at High Power over Ethernet and up to 25 watts of power output, PLANET PoE over coaxial extender solution eliminates the need for additional remote site power while allowing a single PoE source, such as a PoE network switch, to provide power to both transceivers and the camera at long range. This feature eliminates the need for local and remote site power supplies.IEEE 802.3at/af PoE Injector and Splitter in one box design
The VC-203PR is a Single-Port, 802.3at High Power over Ethernet Injector providing maximum up to 30 watts of power output over Ethernet cable which allows data and power to transmit simultaneously through the cable to PoE PD (Powered Device). In addition, the VC-203PR also features PoE splitter function with selectable 12V/24V DC power output which makes non-PoE equipment power up as well.
Stable Operating Performance under Difficult Environments
The VC-203PT and VC-203PR extender is the perfect solution for extended distance data and power transmission for warehouses, parking lots, campuses, casinos, and many more. They can operate stably under temperature range from -40 to 75 degrees C which enables the users to conveniently apply the device in almost any location of the network.