PLANET VDR-300NU 802.11n Wireless VDSL2 Router is a multi-function home gateway designed to establish a high-speed VDSL2 broadband network for triple play applications. It is backward compatible with ADSL2+ fixed line over existing phone wire. The VDR-300NU is developed with five core networking technologies in one unit: VDSL2 (Very High Speed Digital Subscriber Line 2), ADSL2+, 3G, IEEE 802.11a/b/g/n dual band wireless connectivity and IPv6/IPv4 dual stack. It provides residential and office users with the ideal solution for sharing an ultra high-speed VDSL2 broadband connection.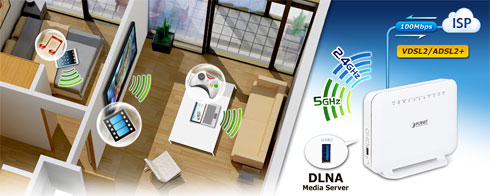 High Performance Ethernet over VDSL2
Via the latest VDSL2 technology with 30a profile supported, the VDR-300NU offers very high performance access to Internet, up to 100Mbps for both downstream and upstream data transmission. VDSL2 absolutely offers the fastest data transmission speed over the existing copper telephone lines without the need for rewiring. With integrated support for the ITU-T's new G.993.5 Vectoring technology, the VDR-300NU works in conjunction with vectoring-enabled DSLAMs to remove crosstalk interference and improve maximum line bandwidth across the existing copper infrastructure.

Delivering High-Demand Service Connectivity for ISP / Triple Play Devices
The VDR-300NU provides excellent bandwidth to meet the demand of the triple play devices for home entertainment and communication. With the capability of 100/100Mbps symmetric data transmission, the VDR-300NU enables many multi-media services to work on local Internet, such as VOD (Video on Demand), Voice over IP, Video phone, IPTV, Internet caching server, distance education, and so on.ADSL2+ Fallback
For those ISPs that still provide ADSL broadband service, the VDR-300NU can support transmission rates up to 24Mbps downstream and 3.5Mbps upstream with ADSL2+ technology. The VDR-300NU supports PPPoA (RFC 2364 – PPP over ATM Adaptation Layer 5), RFC 2684 encapsulation over ATM (bridged or routed), PPP over Ethernet (RFC 2516), and IP over ATM (IPoA, RFC 1483) to establish a connection with ISP and it can be also directly switched over to VDSL2 after the ISP network upgrade.3G WAN Backup Connections
With interface for 3G USB dongle, the VDR-300NU provides users with a reliable and cost-effective "Always online" solution by featuring 3G / xDSL WAN backup Internet access. The 3G USB capability of the VDR-300NU features activating Internet connection anytime and the redundant WAN interface to ensure the most reliable connection.Dual Band High-Speed 802.11n Wireless Connectivity
The VDR-300NU applies 2T2R MIMO antenna technology and provides two modes for network applications — Router and Bridge. With built-in 2.4GHz IEEE 802.11b/g/n or 5GHz 802.11a/n wireless network capability, the VDR-300NU allows any computer and wireless-enabled network device to connect to it without additional cabling. 802.11n wireless capability brings users the data transmission rate as high as 300Mbps. The radio coverage is also doubled to offer high speed wireless connection even in spacious offices or houses.

IPv6/IPv4 Dual Stack Capability
With fully supporting both IPv4 and IPv6 protocols, the VDR-300NU can work with original IPv4 network structure and also support the new IPv6 network structure now and in the future. As more network devices are growing and the need for larger addressing and higher security becomes critical, the VDR-300NU is the best choice for ISPs to build the IPv6 FTTx edge service and for SMBs to connect with the IPv6 network.

Robust TR-069 Remote Management
To reduce the service provider's manpower needed for on-site maintenance, the VDR-300NU supports TR-069(WAN Management Protocol) standard that allows an Auto-Configuration Server (ACS) to perform auto-configuration, provision, collection, and diagnostics to this device remotely.

Secure Wireless Access Control
To secure wireless communication, the VDR-300NU supports most up-to-date encryptions including WEP, WPA-PSK and WPA2-PSK. Moreover, the VDR-300NU supports WPS configuration with PBC/PIN type for users to easily connect to a secured wireless network.

Superior Management Functions
The VDR-300NU provides user-friendly management interface to be managed easily through standard web browsers. For networking management features, the VDR-300NU not only provides basic router functions such as DHCP server, virtual server, DMZ, QoS, and UPnP, but also provides full firewall functions including Network Address Translation (NAT), IP/Port/MAC Filtering and Content Filtering. Furthermore, the VDR-300NU serves as an Internet firewall to protect your network from being accessed by unauthorized users.