Intuitive Design Brings Quality Communication
PLANET VIP-2140PT is a four-line SIP new enterprise phone with dual display that brings lifelike richness and voice quality to phone calls. The VIP-2140PT is a reliable communication device as it features ease of use, versatility, high-quality design and superb audio performance. Besides, its full duplex speakerphone system with HD voice can definitely make communication between two or more business parties crystal clear with no interference noise in the background as it supports the G.722 wideband codec.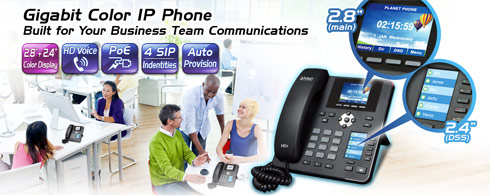 Multi-language IP Phone with Color Display
As the VIP-2140PT is a high-performance IP phone, it allows you to make calls from any location easily as long as it is online. Its 2.8-inch (main) and 2.4-inch (DSS) key-mapping LCD monitors with multi-languages make interaction easy by way of the web-based UI. It provides 30 configurable and 6 multicolored LED keys, and offers a clear depiction of caller's information. It complies with IEEE 802.3af/at PoE interface and dual 10/100/1000Mbps Ethernet for flexible deployment and supports superior audio quality delivered by the advanced speaker and microphone system, and the digital signal processor (DSP).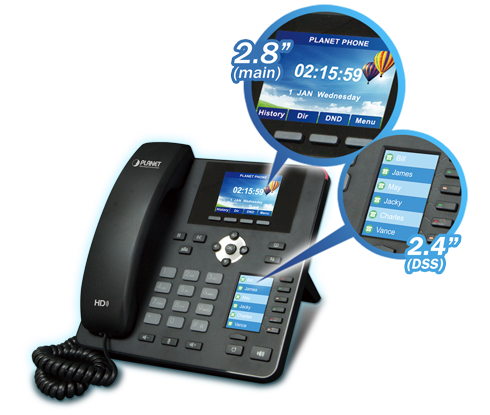 Compliant with SIP 2.0
SIP phones continue to gain popularity among businesses as the preferred protocol for enhancing communication across IP networks. The VIP-2140PT supports Session Initiation Protocol 2.0 (RFC 3261) for easy integration with general voice over IP system. The VIP-2140PT is able to broadly interoperate with equipment provided by VoIP infrastructure providers, thus enabling them to provide their customers with better voice over IP services.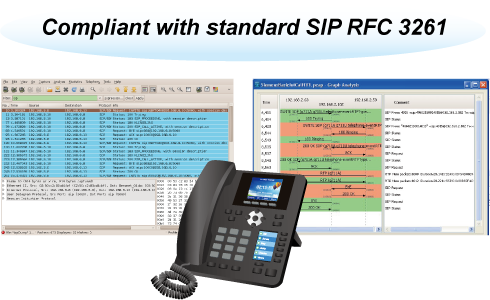 Affordable for All Businesses
The VIP-2140PT is definitely affordable for all business establishments who want flexible deployment options and expansion. It can effortlessly deliver secure toll voice quality by utilizing the cutting-edge 802.1p QoS (Quality of Service) and IP ToS technologies.

Professional Application
The VIP-2140PT supports Busy Lamp Field (BLF) function that, via the lights on the phone, enables users to easily identify the status of other phones which are connected to the same IP PBX, such as busy, idle, ringing, etc. The connected IP PBX must also support the BLF feature. The BLF function is helpful for a receptionist on the front desk to route all incoming calls smoothly.