Cost-effective Wireless Solution with Superior Performance
The WNAP-6325 is designed to provide a highly-stable, better performance and cost-effective wireless solution in outdoor wireless deployment. With the same transmission power, it offers better significant range and excellent throughput than those of the traditional 802.11g wireless device. Via the embedded 12dBi dual-polarization (vertical and horizontal) directional antenna, it provides good diversity coverage and better noise immunity effect, thus heightening the performance of a long-distance, outdoor connectivity even though the environment is flooded with many 2.4GHz wireless equipment.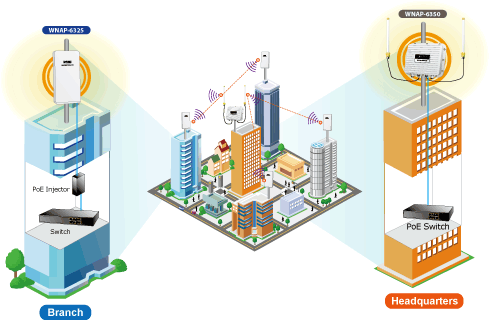 Designed for Various Requirements
The WNAP-6325 is dedicatedly designed for WISP solution that provides CPE users with Internet access via the WISP provider in rural areas. Besides, it caters to various wireless communication connectivities (AP / Client / WDS PtP / WDS PtMP / Repeater), thus meeting users' application requirements.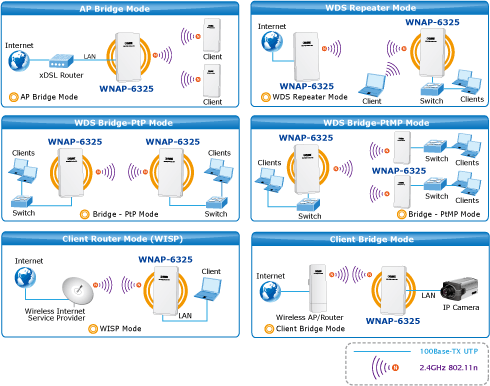 Advanced Security and Rigorous Authentication
The WNAP-6325 supports WEP, WPA / WPA2, WPA-PSK and WPA2-PSK wireless encryptions, the advanced WPA2-AES mechanism and 802.1X RADIUS authentication, which can effectively prevent eavesdropping by unauthorized users or bandwidth occupied by unauthenticated wireless access. Furthermore, any users are granted or denied access to the Wireless LAN network based on the ACL (Access Control List) that the administrator pre-established.Flexible and Reliable Outdoor Characteristics
The WNAP-6325 is definitely suitable for such applications as IP surveillance, backhaul link of building to building and backbone of public service. Additionally, the self-healing/schedule reboot capability keeps connection alive all the time. Meeting the IP55 rating for outdoor UV resistant enclosure, the WNAP-6325 can perform normally under rigorous weather conditions, meaning it can be installed in any harsh, outdoor environments. With the proprietary Power over Ethernet (PoE) design, the WNAP-6325 can be easily installed in the areas where power outlets are not available.Easy Deployment and Management
With user-friendly Web UI and step-by-step setup wizard, the WNAP-6325 is easy to install, even for users who never experience in setting up a wireless network. Furthermore, with the Planet Smart Discovery Utility and SNMP-based management interface, the WNAP-6325 is convenient to be managed and configured remotely.