With built-in 100BASE-FX fiber interface, PLANET FRT-415N supports different optic types for WAN and the distance can be up to 15~60 km through the fiber connection. The FRT-415N is an ideal solution for FTTH (Fiber-to-the-home) applications in the IPv6 environment. It can handle multiple high-throughput services such as IPTV, on-line gaming, VoIP and Internet access, and keep the bandwidth usage smooth. The FRT-415N also incorporates a 4-port 10/100BASE-TX switching hub, which makes it easy to create or extend your LAN, and prevents DoS attacks.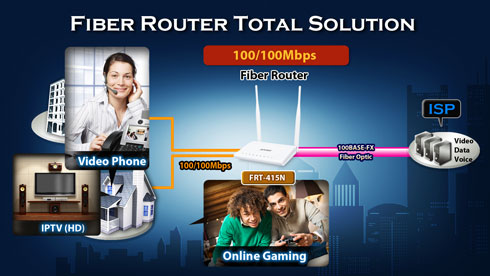 High-speed 802.11n Wireless
With built-in IEEE 802.11b/g and 802.11n wireless network capability, the FRT-415N allows any computer and wireless-enabled network device to connect to it without additional cabling. 802.11n wireless capability brings users the highest speed of wireless experience ever; the data transmission rate can be as high as 300Mbps. The radio coverage is also doubled to offer high-speed wireless connection even in widely spacious offices or houses.

Secure Wireless Access Control
To secure wireless communication, the FRT-415N supports up-to-date encryptions including WEP, WPA-PSK and WPA2-PSK. Moreover, the FRT-415N supports WPS configuration with PBC/PIN type for users to easily connect to a secure wireless network.Providing Superior Function
The FRT-415N provides user-friendly management interface to be managed easily through standard web browsers. For networking management features, the FRT-415N not only provides basic router functions such as DHCP server, virtual server, DMZ, QoS and UPnP, but also provides full firewall functions including Network Address Translation (NAT), IP/Port/MAC filtering and content filtering. Furthermore, the FRT-415N serves as an Internet firewall to protect your network from being accessed by unauthorized users.