Keyless Control and Convenience
PLANET HDP-1100PT is a SIP Door Phone with PoE feature. It supports H.264 / MJPEG compression formats and delivers excellent picture quality in 720p HD resolutions at 20 frames per second (fps). The door phone has night vision that you can see short distances in low light. It provides the flexibility and control required for high-quality property complex visitor management, property protection, intercom, and message service.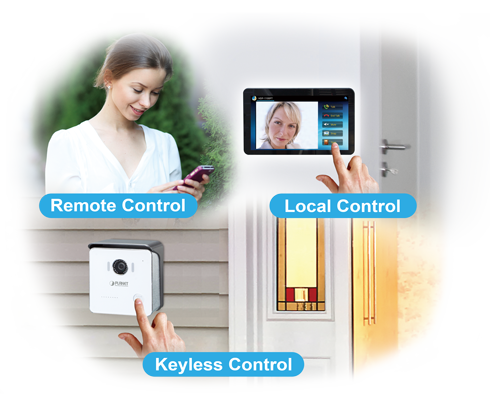 Easy Communication via Intercom
The two-way intercom function provided by the HDP-1100PT allows you to see the visitors and also communicate with them. The HDP-1100PT includes inputs/outputs for connecting to external devices such as door lock or door sensors. When the visitors press the call button at your door, you can press the unlock button on your mobile phone or PLANET HTS-1000P touch screen control pad to open the door for your visitors.

AEC (Acoustic Echo Cancellation)
Acoustic Echo Cancellation (AEC) technology is adopted in PLANET's HDP-1100PT Door Phone and HTS-1000P touch screen control pad to enable users to minimize the voice sound signal distortion shown in the diagram below, thus guaranteeing the best-in-class sound quality.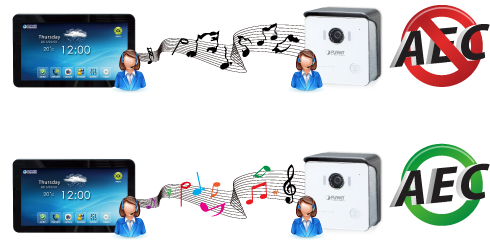 Finding the Door Phone via Smart Discovery
PLANET Smart Discovery is a simple, freely available application for locating intercoms from the IP family in the network. After searching the network, the application shows the device name, firmware version and IP address of all intercoms found on a chart. This simplifies the administration and installation of intercom systems. Simply run the easy-to-use software to get immediate results.