Efficient SMB Surveillance Solution
PLANET NVR-820, a high-definition IP surveillance solution, is suitable for upgrading your CCTV system to IP system without re-cabling. It is the 8-channel Linux-embedded NVR with HDMI local display, bringing a stable and efficient system operation under a wide range of recording, network management and system settings. The NVR-820 can be used as a control center to control and monitor up to 8 connected network cameras (ONVIF supported) locally or remotely, perfectly designed for intelligent IP surveillance system. Users can just turn on the cameras and the NVR-820 to easily protect their lives and properties under the IP networks. It also supports image storage for evidentiary recording and data backup of up to 2 SATA hard disks. The recorded video files can be saved in the NVR without the need for an additional PC for file storage, thus bringing users a secure surveillance system at a lower total cost. It is fully compatible with iOS, Android and Internet Explorer on Windows operating system for multi-platform remote access.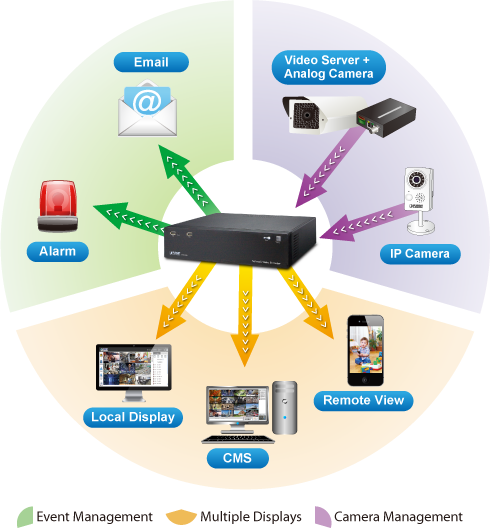 High Resolution Local Display
The NVR-820 provides an HDMI and VGA video output interface for dual local display, which can be connected to HDMI monitor or TV for doing monitoring in the full HD (1920 x 1080) resolution, and check NVR system status on VGA monitor at the same time, eliminating the need for a separate PC to view video from the unit. It also can be operated with the USB keyboard and mouse to configure and monitor all the system easily.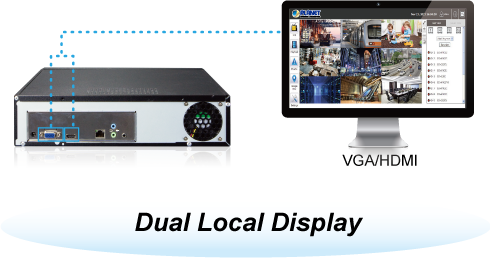 Performing Real-time Remote Monitoring
Up to 8 IP cameras can be connected to the NVR-820 via a connected IP network. With the NVR-820, it delivers high-performance video recordings and smooth playbacks of multiple megapixel cameras. Users can view remote surveillance in real time and play back recorded videos via the web browser or the bundled CMS software.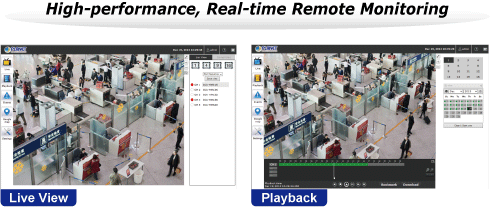 Managing and Presenting Clear and Concise Video
Not just for small scale applications such as retail stores and SMBs, the NVR system is expandable for multi-site management with the bundled CMS software. For instance, the CMS software in the NVR-820 can manage up to 16 units of NVR at the same time meaning 128 channels of IP cameras can be viewed simultaneously. With multi-monitor and e-map functions, the NVR can help the administrators to monitor the surveillance system more efficiently and effectively.