Efficient SMB Surveillance Solution
PLANET NVR-915 is a 9-channel Linux embedded network video recorder (NVR) for restaurants, retail stores, stockrooms and more. The NVR-915 supports IP cameras with up to 5 megapixels and H.264 video codec for high-quality real-time monitoring, recording and playback. It also supports high-resolution video quality on any HD monitor. With two internal 4TB SATA III hard disks and e-SATA interface, it provides you with more storage capacity and keeps video files in the NVR for a long period of time. Once the NVR-915, armed with a complete surveillance equipment, detects any suspicious events, you will be alerted with alarm via email; FTP, HTTP and TCP servers; and more. The NVR-915 is thus able to further enhance security within the premises to protect your property. Moreover, it is fully compatible with mobile app and Internet Explorer on Windows operating system for multi-platform remote access.
High-resolution Local Display
The NVR-915 comes with HDMI and VGA video output interfaces for dual local display. It can be connected to an HDMI monitor and VGA monitor separately, where live viewing contents or playback contents can be displayed simultaneously. With the dual local display function, users can monitor locally with high flexibility in a different display resolution, thus eliminating the need for a separate PC to view video from the unit. Besides, the NVR also can be operated with the USB mouse to configure and monitor all the system easily.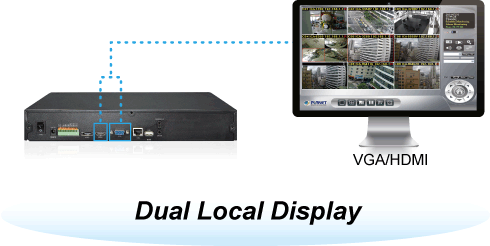 Real-time, Remote Monitoring
You are able to search and install Planet IP cameras via Web interface with more convenience and efficiency. Besides the Web interface, the NVR also supports aCV3m viewer app software for smart phone so you can connect to the NVR at anytime and anywhere.

Live View and CMS Administration
The Central Management System (CMS) of the NVR-915 can manage up to 256 channels. With low bitrate transmission and unlimited group management, the CMS is able to view a maximum of 64 channels on one page and you may switch between groups to see up to 256 channels of live view or a maximum of 16 channels of playback on one page. The CMS of the NVR-915 is good for chain stores via Internet, large installations in the LAN environment, or any environment where its control center is utilized to monitor via multiple NVRs.