Suitable for Monitoring Extreme Outdoor Areas
PLANET ICA-M5380P Vandal-proof PoE IP Camera delivers excellent picture quality in H.265 3 mega-pixel resolutions at 30 frames per second (fps). Users will benefit from reduced 50% bandwidth and data storage through more efficient video compression.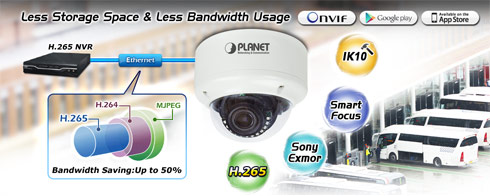 Incorporating the Sony super low lux CMOS image sensor and 20-meter IR illuminators, which are specially designed for surveillance applications, the ICA-M5380P provides sharp images under all lighting conditions. With the motorized focus/zoom, users can remotely adjust the focus and zoom from the Web interface. Also equipped with a P-Iris, it allows for precise control of exposure, producing images with better clarity and contrast.

Moreover, it has an IP66 and IK10 rated housing that can withstand any harsh temperature ranging from -20°C to 50°C. Its outdoor and handy features enable you to easily install the camera in any public areas, such as buildings, gardens, parking areas, markets, balconies, railway stations and hospitals.
Clearer Images Delivered but Less Space Taken Up for Compression
The ICA-M5380P employs the H.265 technology to enable the camera to provide higher and more efficient image compression rates. If the same image quality level of H.264 is compared with that of H.265, the latter is able to save around 50% of bandwidth, meaning H.265 offers much higher quality video for less bandwidth. Thus, it can further enhance the overall performance of its IP surveillance system.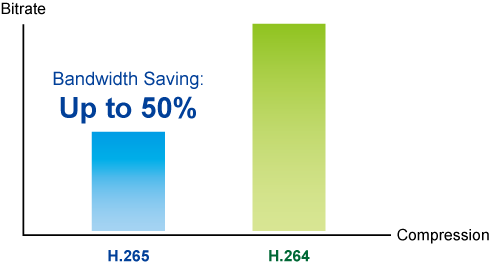 High-level Outdoor Protection
With the IK10-rated vandal-proof metal casing and water-repellent glass, the ICA-M5380P ensures resistance against impacts. Moreover, rain, water jets and dust are not able to seep into its body, making the ICA-M5380P a reliable unit. It definitely operates under any extreme weather conditions.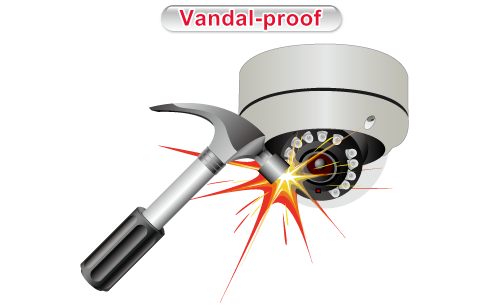 Smart Focus with P-Iris
The ICA-M5380P comes with the Smart Focus to make installation and adjustment easier by allowing remote focus and zoom adjustment. P-Iris function works by a stepping motor controlled via software to automatically provide the best iris position for the best exposure time in all lighting conditions.

Water Resistance and Dust-proof Protection
The IP66-rated housing protects the camera body against rain and dust, and ensures operation under extreme weather conditions, which makes it an ideal solution for outdoor applications, such as buildings, roads, parking areas, garages, railway stations and airports.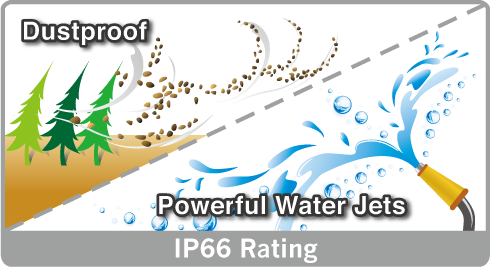 Advanced Media Management
The ICA-M5380P supports a number of advanced features to enhance surveillance flexibility and event management capabilities. The advanced features include 7 configurable regions of privacy mask to protect personal privacy and external ports that allow accessories, such as speakers and microphones, to be added to the camera for two-way audio function.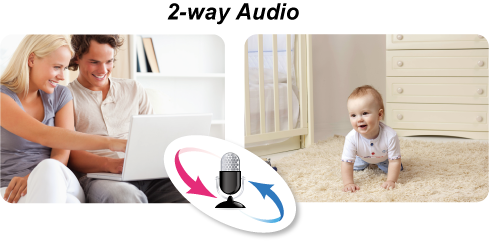 Flexible Installation and Power Functionality
Powered from a PoE power sourcing equipment such as PoE switch or PoE injector over a network cable, the ICA-M5380P, adopting the IEEE 802.3af standard, does not need extra power cables and manpower, thus reducing installation costs while increasing deployment flexibility and scalability. The ICA-M5380P is ONVIF compliant and interoperable with other brands in the market. The ICA-M5380P is indisputably the ideal choice for reliable and high-performance surveillance.